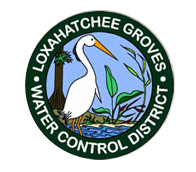 The Loxahatchee Groves Water Control District adopted its 2014 assessment roll with a $15-per-acre increase Monday. The extra money will pay for clearing canals to improve drainage in the face of new federal flood maps that could force residents to buy flood insurance.
The increase would raise the district's assessment to between $107 and $113 per acre, depending on the property. It's more for those along unpaved roads because of grading and dust watering.
The LGWCD's proposed 2014 budget is for $1.611 million, slightly more than the current year's $1.607 million.
LGWCD Administrator Stephen Yohe said the proposed budget already has $50,000 proposed for equipment leasing. He recommends an additional $40,000 to help finish cleaning out all the district's culverts and canals by obtaining a new mower or attachment, or leasing/purchasing a new long-reach backhoe. If there is money left over, he would replenish reserves. "The proposal recommends the lease/purchase of a rubber-tire backhoe with a 50-foot-long front," Yohe said. "I was informed just today that a rubber-tire backhoe can only accommodate a 40-foot-long front."
Yohe added that he spoke with staff members, who said a 40-foot backhoe will accommodate 80 percent of the canals.
"What we propose doing in this fiscal year is to lease at least a 60-foot front to put on the west berm of South A Road," Yohe said. "We first need to widen that berm by benching it down and moving the west top bank of that berm easterly into its proper position. To do that, we also need to lease a bulldozer and a bulldozer operator, and that's included in the 2013 capital budget adjustment."
To accommodate those costs in the current fiscal year, Yohe said he had to use a large portion of the designated reserves. "The proposed budget indicates an approximately $14 tax assessment increase to accomplish what is proposed," he said. "Staff recommends a $15-per-acre assessment increase for initial TRIM notice."
Supervisor John Ryan said the emphasis in the budget is to improve drainage by cleaning out canals and culverts under Okeechobee and removing sand berms, not only to get water out, but to mitigate new Federal Emergency Management Agency flood map information that puts most of the town on a flood plain, which could lead to higher insurance costs.
"The reason for this is not only to get the water out sooner, but to make an effective argument to FEMA that we're bringing the canals back to their design capability so that we might have a chance of avoiding some of the flood map classifications that they propose for virtually all of Loxahatchee Groves, The Acreage and Royal Palm Beach," Ryan said.
Yohe affirmed that canal clearing is the emphasis for the next fiscal year. It includes not only the purchase of a backhoe with a 40-foot boom and rubber tires, but an in-house operator to clean out the canals. "Money is additionally budgeted to dewater each culvert at Okeechobee Blvd.," Yohe said. "We anticipate finding each one of them similar to what we found at A Road, and that is flashboard risers filled with silt and soil halfway up the pipe."
Supervisor Don Widing asked where a $15 increase would leave the reserves. Ryan said he did not have a hard number, but that staff is working toward maintaining the budget with no substantial depletion of the reserves.
Ryan also pointed out that the district has a $400,000 line of credit with SunTrust Bank for emergencies that renews in September.
"Last year, they originally asked for a $2,000 standby fee, and they reduced that, and then they eventually said OK," Ryan said. "In return for maintaining the bank accounts at SunTrust, they would go ahead and renew it without a charge for this current year, but I'm expecting at least a $1,000, maybe $2,000 charge for next year. It is a $400,000 line, which I think is a prudent expenditure."
Ryan added that the district has been trying to develop the budget in coordination with the town, to receive $150,000 of gas tax revenue for road maintenance that had been allocated in the past for drainage projects to protect the integrity of the roads, and about $29,000 for debt service relief, which the town council included in its preliminary budget.
The proposed LGWCD budget also includes a 3.45 percent incentive bonus for staff, which will cost the district about $13,000 but does not include any salary increases.
LGWCD Chairman David DeMarois pointed out that the bonus was not a salary increase, which employees have not gotten in several years. He asked that staff start working toward a salary increase for the 2015 budget.
Ryan pointed out that the adoption of the resolution that evening would be for TRIM (Truth in Millage) purposes and would be subject to further scrutiny and possible reduction before final adoption Sept. 15. The deadline to report the TRIM rate is July 24.
During public comment, Loxahatchee Groves Councilman Jim Rockett asked whether the district could ask the county to clean out the Okeechobee Blvd. culverts, since it is a county road, and DeMarois said they would try.
Ryan made a motion to approve the resolution with a $15 increase, which carried 4-0, with Supervisor Frank Schiola absent.