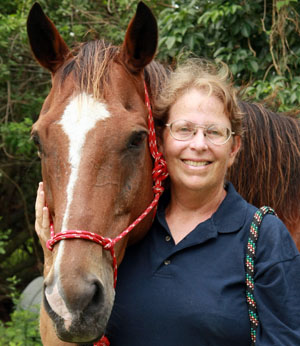 TAILS FROM THE TRAILS
The flier says it all: the experience of a lifetime.
This summer, the Vinceremos Therapeutic Riding Center, located at 13300 6th Court North in Loxahatchee Groves, offered three separate week-long summer camps Tuesday through Friday, from 9 a.m. until 12:30 p.m.
The first one, June 11-14, was titled Equine Enthusiasts. Each camper "adopted" one special horse to groom, feed, pamper and, of course, ride. They learned all about the fun and responsibility of owning their own horse. They met with a veterinarian and a farrier to observe them at work on their horse. Along with the daily riding lesson, they also learned about horsemanship, barn safety and stable management.
The third camp, held June 25-28, was called Hip Hop Horses. This camp combined music and riding. Riders chose music and developed a drill team pattern synchronized to the tune, first memorizing the routine unmounted. On Friday, June 28, they presented their drill team demonstration.
The second, held June 18-21, was Polo Camp. The participants developed their coordination, concentration, spatial relationships, preparation and anticipation skills while having a whole lot of fun.
Polo, being a competitive game, promotes many different skills. There's peripheral awareness and organization, along with learning the rules of the game, holding the mallet, hitting and following the ball, all while steering horses with one hand. On Friday, June 21, participants played their polo match in front of a small but vocal and enthusiastic audience.
"All of our players ride with us during the year," Executive Director Ruth Menor explained. "We like to mix things up a little during the summer and give them some different things to do. They learn different skills while having a lot of fun. Polo is not just about riding. It's a competitive game. You're thinking about going after the ball and hitting it. Riding is mainly an individual sport, just you and the horse, but in polo, you have a team. You have to coordinate with others."
The eight players, four wearing blue shirts and four wearing orange shirts, were all riding bareback on saddle pads held in place with surcingles. Some horses wore only halters with two lead ropes attached for reins. Some riders rode alone, some had leaders, some had side-walkers.
"Riding bareback is great for their balance," Menor explained. "It also keeps them from getting too aggressive with the mallets. And the halters keep them from pulling on the horses' mouths."
"Our riders have practiced playing polo all this week," Director of Development Susan Guinan said. "They came every day. The horses learned to tolerate the mallets in no time flat. They're very kind and quiet, and willing to do whatever we ask."
Indeed, both horses and riders looked thrilled to be participating in the tournament. They milled around before the start of the game, mostly walking with an occasional short jog here and there, practicing under the large covered arena, whacking away at balls of varying sizes and colors.
Gavin Guinan, Susan's son, was the camp's main instructor. He's a member of the U.S. Polo Association and a coach at the Polo School at Grand Champions Polo Club in Wellington.
"I did Polo Camp here last June for the first time, and it worked out nicely," Gavin said. "The riders picked the game up really quickly, which surprised everyone. So we held another Polo Camp that fall over four weeks. They learn how to hold the mallet, how to hit the ball, pass to each other, work as a team."
The instruction starts without a horse, then participants do it all again mounted.
"There's a lot of physical skills that go along with playing polo. There's balance, of course, and also hand-eye coordination. Sometimes they get so involved in playing that they forget they're also on the back of a horse. Instead of being nervous, they get into the game and have a lot of fun," Gavin said. "I've taught all sorts of clients, from 6-year-old children through adults in their 50s, and these students at Vinceremos are the best. They really listen and pick up skills the quickest. They enjoy the game the most of anyone. We're definitely doing this again this fall. It's amazing. I love doing this."
The practice ended and the two teams met in the middle of the arena, spaced out in two lines facing each other. The riders and horses were introduced. Gavin stood to the side and threw the ball down the center. Horses and riders surged forward at the walk, mallets ready, jockeying to control the ball and move it toward one of the two goals marked by poles at either end of the arena.
Paulina Burbano of Wellington watched her son, Juan, play. "Juan has been riding at Vinceremos for many years," she said. "He loves it. My grandpa used to play polo back in Ecuador, so it's really special for me to watch Juan play polo now, too."
The blue team scored a goal. Everyone cheered. The teams walked back to the center and lined up again. Gavin tossed out the large pink ball, and the game continued.
Stacy Gutner watched her daughter, Reed, go after the ball for the orange team.
"She loves this," Gutner said. "Reed has been riding here for three years and has competed in the Special Olympics. I think it's great for her. She has better balance on the horse than she does on the ground. This place is really good for her. Not just the riding, but also the socialization. She just loves coming here."
Devin hit the ball and moved it down the field, scoring another point for blue. We all cheered. Reed scored a goal for orange. More whistles and applause.
Want to be part of it? Vinceremos is always looking for donations and volunteers.
"We have VTRC University for volunteers during July, which includes modules in a variety of areas: leading, tack, grooming — it's in-depth horse knowledge which promotes good horsemanship skills for our current and any new volunteers," Menor said. "We hope to see some new volunteers join us, especially year-round ones."
Blue scored another goal. Everyone cheered.
For more information, call (561) 792-9900 or visit www.vinceremos.org.