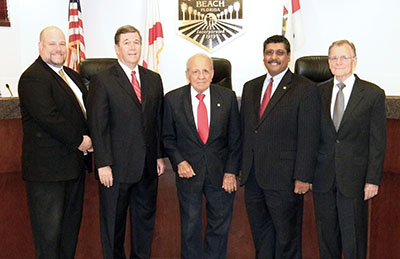 The Royal Palm Beach Village Council gave priority in its capital budget to an expanded dog park at Royal Palm Beach Commons Park, over a flying disc course that was recommended by staff, during a budget workshop July 2.
Jackie Larson, who chairs the Royal Palm Beach Planning & Zoning Commission, gave a presentation favoring a dog park capable of hosting community events.
Larson said she was trying to summarize what residents have talked about for a number of years: a dog park large enough to hold big events in conjunction with other community activities.
"You may be familiar with our neighborhood dog parks," Larson said. "They're small, they're wonderful, but we're looking for an additional step. We've had many conversations with staff over the years. We've talked about events we could have."
She gave examples of the Wellington and Okeeheelee dog parks, which are several acres each. The village's current dog park plans at Commons Park are for just seven-tenths of an acre.
Larson said she had discussed her ideas with staff but not actually with the council, and presented a petition with the signatures of 66 residents who live near Commons Park, as well as the north end of the village.
"I know everybody on this petition and their dog," she said. "We know these folks, and I know there's a lot more out there who are interested, but we'd like to come before you during budget time, to be at the beginning of the process, to say we'd love to start the conversation about a community-size dog park, several acres with amenities, different things that we can't build in our dog parks now."
Larson said dog owners love Robiner Park on La Mancha Avenue, which has a dog run that is too small to host events such as a dog agility competition.
"Commons Park is the only place left in the village large enough to do something like this," she said. "I've talked to a lot of people who love the concept."
Besides dog agility competitions, she said several dog rescues she works with would like to have adopt-a-thons associated with larger community events. "What we need is assistance to get it going," Larson said.
She said she is aware that the dog park is on staff's list of things to do, but also that staff has other pressing priorities. "However, we've waited a long time, and we'd kind of like to get this started," Larson said.
Councilman Fred Pinto said he favored the idea conceptually, and Vice Mayor Jeff Hmara agreed that the council already had set aside some money and land for a dog park.
Village Engineer Chris Marsh said $63,000 was budgeted for a 0.7-acre dog park with a dog wash, fencing and a minimal walkway to make it accessible. Some oak trees had already been moved into the area for shade. Current plans are to start design in December with completion in August 2014.
Hmara said he thought there were some smaller projects that could be rolled into a larger dog park. "One that comes to mind is Frisbee golf, not because I have anything against Frisbee golf," Hmara said. "One of the things that I would put on the table is that we could actually defer the disc golf to some later date and use that $30,000 to enable us to [build a dog park] sooner than later."
Councilman David Swift said Okeeheelee Park has a disc golf course, but did not know what its level of use was. "I've never had people come to me and say we really need to have this in the Village of Royal Palm Beach," he said.
Swift agreed that they could defer the disc golf and use the money to expand dog park plans.
"I guess the issue that the council will have to take a look at is, do you want to have a contractor come in and help plan a really quality dog park?" he asked.
However, Swift pointed out that a dog park was not brought up during public planning sessions for Commons Park. "I'm for it, I'm just saying there's a lot of things out there that have been voted on already, and we're kind of changing the scope," he said.
Swift added that he had also talked to Marsh about a shade structure for humans more substantial than trees. "I see shade as a really important piece to have in there," he said.
Mayor Matty Mattioli said he favored moving ahead immediately on a high-quality dog park.
"That money is available, but you people don't want to touch that money that we haven't used for two years," Mattioli said. "What good is money in the bank if you're depriving people of what they want? If you need $100,000, and we've got $5.5 million dollars, what are we playing around for? Hire a consultant and get the thing planned."
Village Manager Ray Liggins said staff had estimated up to $100,000 when the council had approved plans for a 0.7-acre dog park, by doing it with in-house labor. "The size really came from looking at not the completed project, but a landscape design of what we had out there," Liggins said, explaining that the area of the park could be increased easily at an insignificant cost. "The cost, the larger you make it, the more fencing you would have, so there would be cost changes to that."
Liggins affirmed Mattioli's contention that money is available to increase financing for the dog park. "You can give us direction to put more money to this, to buy more structures or use a consultant. If we put a consultant to it, we can start on this immediately," he said, pointing out that existing staff is limited by other projects that have grant deadlines that must be met.
"This is a good time to talk about it, and we can find the money if the council wants to put more money into this," he said.
Attorney Brad Biggs stressed that the meeting was a workshop session, and the council could not make any decisions that evening.
Councilman Richard Valuntas said he did not have a problem rolling the disc golf funding into the dog park plans, although he agreed with Swift that a dog park did not come up during public hearings.
"I went to all the meetings for this, and a dog park was never mentioned, but it looks like it's a need now, and it looks like the desire is for something bigger than what we had anticipated," he said.
Valuntas said the acreage would need to be determined. "This is something we might want to think about before allocating dollars," he said, pointing out that they already have $63,000 and an additional $30,000 from the disc golf allocation.
Councilman Fred Pinto recommended, without objections, that staff do an analysis and meet with the people who want the dog park to find out what it needs to be, and report back to the council for a decision in the near future.
ABOVE: The Royal Palm Beach Village Council.