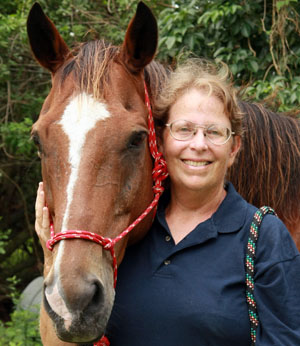 TAILS FROM THE TRAILS
"That's it, darling! That's the way to do it." Sitting in a plastic lawn chair, Julius von Uhl booms at the rider who makes the correction. "There, now. Isn't that better?"
It is, indeed, better. Thirteen-year-old Chirsten Zubka smiles and pats Max, her Quarter Horse gelding, whose walk has now gone from short and pokey to long and working.
"See how he can engage his hind legs and really use them now?" von Uhl asked.
Zubka nodded. Everyone watching nodded. We can all see the difference.
"I love riding with Julius," said Leon Gerard, who organizes the clinics held periodically at Border Fox Farm in Wellington. "Julius is great with riders of all levels, beginner through advanced, and any kind of horse, from green to made. He has a great system for starting horses or fixing problems. I've seen him take horses who are throwing everyone off to working smooth, light and easy within 30 minutes.
His system, which von Uhl calls Ride Like You Walk, works for every discipline — English, western, hunters, jumpers, dressage, reining, cutting and more.
"You can apply it to all horses," Gerard said. "A lot of people don't believe it until they see it for themselves. He has been teaching this system for 50 years, and his lessons are guaranteed. If you're not happy with it, if you feel you didn't learn anything, then you don't pay him. Now that's different."
The clinics are reasonably priced at $75 per private lesson, $125 for the whole day or $275 for five rides: one on Friday, two each Saturday and Sunday. Stabling is available for $25 per night, and auditing is $35 a day or all three days for $50. It's very informal: comfortable clothes and any tack, and von Uhl recommends recording each lesson for later review.
"It's all about the riding, not what you or your horse look like," Gerard said. "His lessons are wonderful and unique. He's quite a character. In addition to training horses, he used to own a circus and worked with lions and elephants. He's quite a showman."
Von Uhl was definitely fun to be around when I observed part of a recent clinic. He lives in Peru, Ind., and flies into Wellington for clinics every so often. Now 75, he was born in Hungary but grew up in the United States. His father was a brain surgeon and expected him to follow in his footsteps, but he played hooky and ended up working at a circus. "I learned a lot there," von Uhl said. "I also learned military horsemanship from my grandfather, who was a Hessian cavalry officer."
I had hoped to ride one of my horses, but ended up leaving her home. It was the week Tropical Storm Andrea sent us feeder bands and tornadoes. I hadn't been able to ride in two weeks, and my trailer was sitting in the middle of a lake. In fact, as we sat in Gerard's covered arena watching others ride, the skies opened yet again and thunder boomed. We edged our chairs inward to avoid the blowing rain.
"My system is very simple, very easy, very horse friendly. Horses like it. You become one with the horse," von Uhl told me. "Horses remember everything, and you can't erase or bury bad habits. They'll pop up again. But good training can provide different behaviors. Every time you ride, you're teaching your horse something, either good or bad."
I watched Gerard ride Maestro, his Lipizzaner gelding, whom von Uhl had trained since he was a colt. They worked at a number of exercises: shoulder in, haunches in, half passes, turns on the forehand and back hand.
"The shoulder in is very important," von Uhl said. "You can fix almost any problem with a shoulder in — running away, shying, not engaging the rear end. When all else fails, do a shoulder in. And the walk — the walk is the most important gait. If you don't have a good walk, you won't have a good canter."
While Gerard rode, I spoke with Galen Miller, who used to own the Arabian Nights show in Orlando, where von Uhl has been a trainer and consultant for many years.
"I consider Julius the greatest trainer across all riding disciplines alive today," Miller said. "I've ridden and shown all my life, bred hundreds of horses, yet within five minutes of riding with him, I found out I didn't know anything."
When searching for a trainer, von Uhl fit the bill perfectly.
"For the Arabian Nights show, we needed a trainer who was horizontally integrated," Miller said. "Many trainers are vertically integrated and know a lot about one single discipline. We needed someone who could teach horses to work under saddle and at liberty, all sorts of different disciplines from western to dressage. Julius had no problems with that."
She noted that his training system is based on making the horse feel more comfortable doing what you're asking him to do, moving toward comfort rather than away from pain or punishment.
"I've never seen him hurt a horse. All his fixes make sense to the horse," Miller said. "Julius can take you where you want to be, lead you to a movement where you may not have confidence in your ability, but he puts you in the right position, and there you are, doing a passage or a piaffe or whatever it is. It's all in the seat, where to put your hands and butt. He's especially good with what I call survival lessons, where you have a green rider on a green horse. He can help any rider make progress without fear."
Gerard had brought Maestro back to the barn, and we watched Zubka ride Max.
"You need to strengthen him by bringing his hind legs in and under him," von Uhl called, trying to be heard over the rain. "Make him use all his muscles so he's balanced and supple. Make him use all four of his corners, darling."
"I really enjoy taking lessons from Julius," Zubka said after the lesson. "He's taught me how to get Max on the bit and keep him in a nice frame. Even though I love to jump, dressage is fun. It has really improved Max's gaits. Julius gives me a lot of good information in a short period of time. He fixes problems that need to be fixed."
For more information, or to sign up for the next clinic, call Leon Gerard at (561) 504-6666 or e-mail Linda von Uhl at lions@rtcol.com.