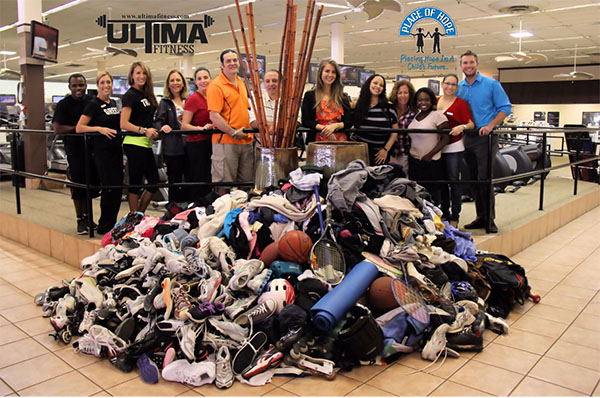 By Tania Artiles, Special to The Town-Crier
Ultima Fitness is proud to have members with such big hearts. After our fundraiser for Place of Hope, we had such a great feeling of being able to help others in need. During May and at the beginning of June, members and guests were excited for the opportunity to donate fitness shoes and clothing for the children of Place of Hope.
"We are honored that Ultima Fitness would choose to partner with Place of Hope, and we're amazed by the overwhelming response from the people who donated to support our kids," said Chelsea Dasilva, special project assistant for Place of Hope. "We strive to consistently show the children in our care that they are loved and valuable, so when they see so many people in the community taking steps to support and love them, it has a great impact on them. On behalf of the children and staff of Place of Hope, thank you so much to everyone who participated in Ultima's clothing drive!"
Jill Merrell, owner of Ultima Fitness, said the facility believes in sharing the importance of a healthy lifestyle and giving back to the community.
"At Ultima Fitness, Xtreme Taekwondo and Wellington BCx Fusion, we consider ourselves a family and are incredibly fortunate to work with so many educated, kind, dedicated individuals," she said. "With the support of our generous members and charitable organizations, such as Place of Hope, together we are making a difference."
Besides Ultima's efforts of helping Place of Hope, it is also rewarding students for their academic excellence in the 2012-13 school year. During the summer, from June to August, students with a 3.5 GPA or higher will be eligible to receive one free month gym or tae kwon do membership.
"We want to introduce children and teenagers to a variety of exercises and exercise routines that our fitness center offers all year long," Merrell said.
Being involved continually in our community is a big part of what we do. Not only do we need to exercise our heart for good health, we also need to open our hearts for those in need. With these events we have going on in our community, we make sure our "positive purpose" is heard.
The "positive purpose" at Ultima Fitness is to support members, clients and guests in every way possible on their journey to improved health and wellness. We will provide an open, friendly and fun environment, where people feel welcome and motivated to improve upon their personal well-being.
Through exercise, nutrition, stress management, education and social interaction, the staff of certified professionals will assist clientele with integrating everyday lifestyle changes. We believe through finding balance in one's life, optimum wellness can be achieved. Actively involving our club in community and philanthropic events contributes to our "positive purpose," and by giving back to others, we hope to create an experience for our clientele that will help them to influence others in a positive way.
For more info., call (561) 795-2823 or visit www.ultimafitness.com.
Tania Artiles is sales and marketing manager at Ultima Fitness/Xtreme Tae Kwon Do.
ABOVE: Ultima staff members with the items collected for Place of Hope.