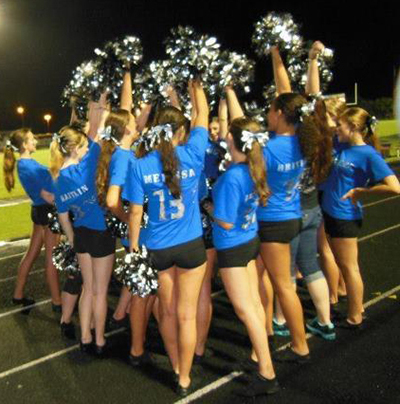 BY ANNE CHECKOSKY
On Thursday, Aug. 1, get ready to get your groove on with the Wellington High School Dance Team.
The team will hold a showcase at the school from 5 to 7:30 p.m., in part to help raise money so the team can travel to the Sugar Bowl in New Orleans next year to perform.
The fundraiser will also benefit dance team alumnae Kelly Dennis, whose mother recently died after battling cancer. Dennis' mother was an ardent supporter of the team, coach Brittany Tobasco said. The money raised will help Dennis, a Florida State University student, further her education.
Expect a little bit of everything from the dance team: from their newest pom dance to jazz, lyrical and modern numbers. "You'll see a lot of different stuff," Tobasco promised.
Since taking over the dance team, Tobasco's goal has been to improve performance and boost morale. Already, there have been successes.
This year, the team took third place in a national competition, the Contest of Champions at Disney in Orlando. This is higher than the team had scored in competition in five years, Tobasco said.
The success got the WHS dancers noticed. Judges at nationals mentioned them to the Sugar Bowl organization, and that's how they got invited to perform in New Orleans.
With an extensive background in dance — she attended the Dance Stop Education Center in Parlin, N.J. and the Dreyfoos School of the Arts in West Palm Beach — Tobasco knows the moves and knows how to motivate the girls.
Tobasco is also a Wellington Dance Team alumnae, but she spent only her sophomore year at the school before transferring to Dreyfoos.
Accepted to Marymount Manhattan College in New York, which is known for its focus on the performing arts, Tobasco faced a crossroads. She loved dance but was getting burned out performing, she said. So, she opted to stay in Florida.
"I decided to pursue a career in business here," the Greenacres resident said.
But dance wasn't done with her yet. She took a job at Publix, which brought her into contact with one of her old dance teachers, Donna Tucci, who runs a popular dance studio in Royal Palm Beach.
Tucci invited her to teach at the studio, Tobasco recalled. So she started helping out teaching a class or two. Soon it was up to working five days a week and helping Tucci run the studio. Then, when the WHS dance team reached out, she knew she had to say yes.
The team is composed of 16 girls with a range of dance ability from extreme to recreational, Tobasco said. They practice three days a week — Monday, Wednesday and Saturday — at the high school for three hours. The team performs year round, at all football games, pep rallies, their own competitions and in the community.
In addition to the Aug. 1 showcase, the girls are also trying to raise money with car washes and by selling coupon books and candy bars. They'll also put on a clinic for elementary school-age kids, who'll be invited to watch them practice and then perform with the team at certain events. This is all in an effort to raise the $1,079 it will take to get each girl to New Orleans, Tobasco said.
Tickets for the showcase are $20 in advance or at the door. There will be a concession stand — with dance team moms making baked goods — and a silent auction, as well.
"It's going to be a great, emotional performance," Tobasco promised.
To get tickets in advance, e-mail Tobasco at brittanytobasco@gmail.com or call (561) 800-7625.
ABOVE: The Wellington High School Dance Team in action last season.