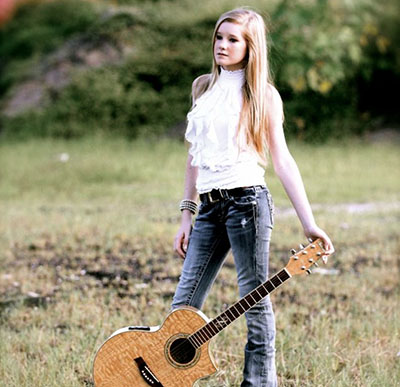 Throughout the year, the Norton Museum of Art, located in the heart of downtown West Palm Beach, celebrates art in all forms during its weekly Art After Dark series, held Thursday nights from 5 p.m. to 9 p.m. Music highlights an exciting evening of activities that includes guided tours, wine tastings, film screenings, cooking classes and more. And for Florida residents, Norton admission is free every Thursday through Aug. 29.
Among the musical acts scheduled for Art After Dark on July 11 are Wellington's Emily Brooke, 14; Maggie Baugh, 13; and Savannah Maddison, 12. All are local aspiring, country singer-songwriters participating in the Chrystal Hartigan Presents Songwriters Showcase series at Art After Dark being presented by WRMF (97.9 FM).
This is the second showcase in the series presented by Hartigan, who is thrilled that the three musicians will perform at the Norton.
"It's amazing how young they are, and how extremely talented," Hartigan said. "What I really love is the support they all get from their families."
She also noted that each young lady is beginning to find success. Baugh, for example, has been performing this summer in Nashville and Boston, and Maddison is scheduled to perform July 7 on Michael Stock's popular "Folk and Acoustic Music" program on the NPR station WLRN (91.3 FM).
The July 11 Art After Dark also will feature a performance from world fusion band Treebo, a Curator's Conversation on Dorothea Lange's iconic 1936 photograph Migrant Mother and a Blue Bell Ice Cream truck offering free samples to help beat the heat.
"I try to book different kinds of music to attract diverse audiences every week," said Norton Education Programmer Yael Matan, who organizes the weekly cultural gatherings. "The goal is to appeal to the entire community."
The Norton is located at 1451 S. Olive Ave. in West Palm Beach. It is open Tuesday, Wednesday, Friday and Saturday, 10 a.m. to 5 p.m.; Thursday, 10 a.m. to 9 p.m.; and Sunday, 11 a.m. to 5 p.m. It is closed Mondays and major holidays. For more information, call (561) 832-5196 or visit www.norton.org.
ABOVE: Wellington's Emily Brooke will be one of the featured performers at the Norton Museum of Art on July 11.