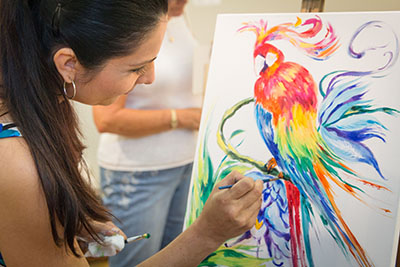 At the Armory Art Center's upcoming 50/50 event, the public will watch as 50 top regional artists produce artwork live — and then have the opportunity to bid on the finished work for a minimum bid of $50.
Beginning at 5:30 p.m. on Saturday, Sept. 7 at the Armory Art Center (1700 Parker Ave., West Palm Beach), 50 artists will put their creative efforts forth on 16-inch by 20-inch canvases and begin creating in a multiplicity of media as the public looks on, enjoying a complimentary glass of wine or beer. Three hours later, as the pieces are completed, the bidding will begin, with minimum bids of $50, and also buy-it-now prices for patrons who don't want to risk seeing their favorite piece put up for auction. In addition, Armory Art Center Artists in Residence will provide sculpture and ceramics demonstrations.
"The 50/50 event will be an exciting interactive event, allowing the public a peek inside the creative process with this great collection of artists," Armory Art Center Chief Executive Sandra Coombs said. "We have artists from every genre, including noted political cartoonist David Willson, muralists Eduardo Mendieta and Sharon Koskoff, among many others. It will be great fun to watch them create art on the spot, and then have a chance to take it home that night."
Tickets are $10 and can be purchased at the Armory Art Center or by calling (561) 832-1776, ext. 33. Each ticket includes a complimentary glass of wine or beer with a cash bar for additional beverages, along with refreshments provided by a local food truck.
The Armory's mission is to provide high-quality visual art school and art gallery services that stimulate personal self-discovery and generate knowledge and awareness of art as part of life. Housed in an historic Art Deco building, the Armory provides art classes for students of all ages, exhibitions, art salons, lectures and special events. Nearly 100 courses held in 12 state-of-the-art studios are offered, including ceramics, digital arts, drawing, glass fusing, jewelry, painting, printmaking, fibers, sculpture and more. For more info., visit www.armoryart.org.
ABOVE: During the Armory Art Center's upcoming 50/50 event, 50 artists will create works of art on the spot as the public watches. Photo by Mary Brandenburg