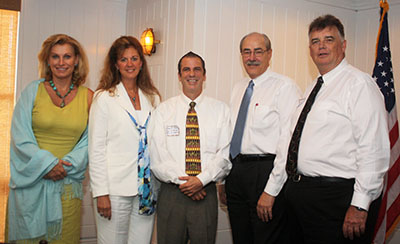 It's never too late to do what you love — that was the message imparted to Wellington Chamber of Commerce members at a luncheon Monday at the Wanderers Club.
The luncheon featured four key speakers who found their passions later in life: Carla Neumann, Dale Grimm, Diane Frankle and Dean Piper.
Neumann is a marriage and family therapist who co-founded Dream Sponsors Inc., a nonprofit organization that provides basic needs and school fees to needy orphans.
"If what you're doing is not your passion, then you have nothing to lose," Neumann told chamber members.
For Neumann, it was a personal loss that made her want to give back, prompting her to go back to school to become a therapist. "I found a way to turn my loss into a gain and give that meaning," she said.
She encouraged chamber members to find ways to get out of their comfort zones and learn about other people and cultures.
Neumann did just that many years ago when she met a young man from Kenya who was looking for a mentor. Through him, she learned about the plight of street orphans in his village.
"I helped him writing grant applications for some organizations in his country," she said. "He had taken in about five street orphans, so I helped him with parenting tips."
She traveled to Kenya and became close with the children there. It was then she decided she wanted to make a difference in their lives.
"I saw children in the most abject poverty," Neumann said. "And yet there was something about them that was joyous. It was very motivational to me."
Her organization raises money to send children to school, as well as provide necessary goods for them to live a healthier life.
"The whole experience has been such an incredible journey," she said. "It's important to listen to your inner voice… and to creatively imagine yourself living your dream."
Grimm is a certified public accountant who realized his dream of pursuing his gift for photography. Since then, his photos have been displayed in numerous locations and he's considered one of Palm Beach County's most unique and diverse nature photographers.
"I was sitting at my desk one day thinking, 'What's happened? Life has passed me by,'" he recalled. "It was going to be too late to do what I wanted to do. I was going to be too old to enjoy it."
Grimm said he made a decision at that moment to pursue the things he enjoys, notably photography, which had been a longtime passion of his. "When you look through the viewfinder, you see the world differently," he said.
With his camera, Grimm was able to capture the beauty all around, creating a compilation of his best photos for a coffee-table book. People were so impressed by his photos that they requested copies of the book. "I never expected to sell a single copy," he said.
Grimm began putting his photos out there and found success having them put on display, as well as selling prints. "It's great to have something you've done recognized," he said. "As I get older, I find I have more time to do this. It puts a smile on my face."
He encouraged other members to pursue their passion. "Even if you don't reach your destination, it's the journey that matters," Grimm said.
Frankle is a registered nurse anesthetist who began an internship that changed her views on life and convinced her to give back to the community.
Frankle noted that some people don't find their true passion until later in life, pointing to famous innovators such as Walt Disney and Oprah Winfrey.
"Walt Disney was fired and told he lacked imagination and original ideas," she said. "Oprah Winfrey was fired because they said she had no place in television. But they didn't give up."
The key to happiness in life is to find a balance, Frankle said. "We are physical, spiritual and emotional beings," she said. "Never doubt your worth."
Piper owns W4CY Radio, which gives a voice to many of the area's talented and interesting residents. His success is also the result of a career change later in life.
Piper said it's important to redefine the word "success."
"The reason people find success later in life isn't because we're having a midlife crisis," he said. "It's because that's when we truly find who we are."
Piper noted that when we're young, we have a lot of dreams, opinions and passion. "But then we become adults and get caught up in life," he said. "We get caught up in making a living. We forget about that [young] person. We do things based on what society tells us to do."
But measuring yourself by other people's standards won't make you happy, he said. It's not money that makes people happy, Piper said. Instead, happiness comes from doing what you love.
"How many people have a huge bank account and are miserable?" he asked. "That's because their happiness was based on someone else's rules. We get so caught up in life that we don't stop to define our own rules."
He encouraged chamber members to reevaluate their standards of happiness.
"The only thing we need is our heart, our mind and our vision," Piper said. "Execute that vision no matter what anyone says."
ABOVE: Guest speakers Diane Frankle, Carla Neumann, Dean Piper and Dale Grimm with Wellington Chamber of Commerce President Victor Connor.