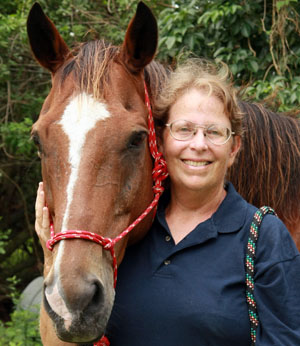 TAILS FROM THE TRAILS
It's back! Somehow we've survived yet another summer in South Florida, and now it's time to start thinking about which weekend show is coming up.
The Palm Beach County Mounted Posse starts next weekend, Sept. 7-8 — on the first Saturday and Sunday of each month, as always. And this time, they've made some beneficial changes.
"As usual, we'll be having the hunter/jumper/dressage combined show," Posse President Alyce Michelbrink said. "For a while, show attendance was way down because of the economy. But then things got better, and then we had so many riders and got so big that some classes weren't held until late into the night, which was a big problem."
After all, if you come on a trailer from a big barn, you can't wait around all day, keeping everyone there.
"People just can't stay that late at a show. The horses aren't used to it, plus the owners might have to get home to feed other horses or animals. We never expected that many riders. Our entries quadrupled," Michelbrink said. "So we adjusted the schedule. Dressage is Saturday morning, and jumpers are Saturday afternoon. Hunters are all day Sunday, starting at 8 a.m.
And starting with the September show, the Posse will be running two hunter rings simultaneously. "The first ring we're calling the novice ring. It'll be for all the lead line through adult walk trot classes," Michelbrink said. "Basically, any class where you don't have to jump more than one jump. The other ring will be the main hunter ring, and will hold all the rest of the usual hunter classes, from walk trot with individual canter on up."
Michelbrink hopes this will make the shows more efficient.
"This will accomplish a number of things. It'll help the hunter show run quicker, and also facilitate an easier time for people who want to show in those classes in both the English and western rings," she said "The pleasure show starts Sunday morning at 9 a.m., and the first hour is basically the halter and showmanship classes. Then come the lead line, western pleasure and horsemanship. A lot of kids show in both English and western classes, and having the two hunter rings will cut down on class conflicts."
There will also be changes to the reining classes. "We used to have the reining classes at the end of the day in the pleasure ring, but many folks didn't find that convenient," Michelbrink said. "They might show in a few classes earlier, then end up waiting around until late in the afternoon for reining. So now we've moved those classes up to the end of the morning session, just before the lunch break."
Michelbrink is looking forward to the new season. "I'm so pleased that our show entries have grown so immensely," she said. "We now get close to 500 total entries per show. Our dressage shows, which are Saturday morning and include western dressage classes, used to have just a few riders. Now we have 40 to 45 riders, locals as well as people coming up from Plantation and Southwest Ranches. And, since the dressage and jumpers are both on Saturday, we also get eventers riding in both, which is a happy coincidence."
The Posse is also rolling out a new way to pay entry fees.
"Starting at the November or December shows, people will be able to pay for everything online in advance, using a credit card or PayPal," Michelbrink said. "I think this will be especially good for some of the bigger barns, and just more convenient for a lot of people."
Many of the barns that show at Posse are also looking forward to the new season.
"I'm very excited that Posse is starting back up," said Meghan Garcia, owner of Lotus Beach farm in The Acreage. "I go to all the Posse shows. I like the idea of the two hunter rings. It opens up the lead line and walk trot classes to a lot more kids, who now won't have to worry about time conflicts and decide to do only one or the other."
She also likes the idea of the online signup and payments.
"I think that'll help make things easier and smoother," Garcia said. "Not that paying was ever difficult, but this'll just be a little smoother, maybe easier for some parents who are new to showing and aren't used to how things work. Everyone's used to paying for things online now."
For Garcia, going to Posse shows is a way of life.
"I love going to the Posse shows. I bring my kids and the barn there now, but I started showing there on my pony when I was a kid," she said. "They offer a show with all the flair of a bigger show but with a lot less pressure. It's very relaxed. Everyone enjoys being there. It's like we're all one big family. Posse shows are a lot of fun."
For more information and class lists, call Michelbrink at (561) 670-4917 or visit www.pbcposse.com.