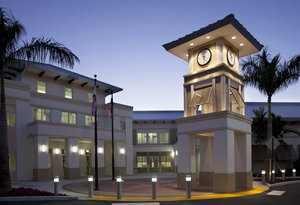 Members of the Wellington Equestrian Preserve Committee recommended approval last Wednesday of an ordinance that could make veterinary offices a permitted use in certain parts of the Wellington Equestrian Preserve Area.
The request was brought by Palm Beach Equine Clinic and would change the master plan to make veterinary clinics a permitted use in the portion of the Equestrian Preserve Area stretching from Lake Worth Road north to Pierson Road and from 120th Avenue South west to Palm Beach Point.
The clinic has been at its current location on Pierson Road since 1983. However, Wellington's current code does not allow veterinary clinics in the area.
Though committee members expressed concerns that the master plan change could open the door for more clinics in what is largely a residential area, they agreed to move the item forward to Wellington's Planning, Zoning & Adjustment Board.
Wellington Planner Cory Cramer said village staff had worked with representatives from Palm Beach Equine to set some additional standards and address concerns raised at the committee's July 31 meeting. "We feel we have addressed your concerns," she said.
Changes included requiring an amendment to the planned-unit-development master plan by the Wellington Village Council to include vet clinics as an approved use in select residential areas, requiring that the clinics comply with Equestrian Preserve commercial development standards and additional standards for quarantine facilities and landscaping.
Attorney Janna Lhota, representing resident Victoria McCullough, called the measure an "expansion of commercial uses" in the area.
Though she said her client supports the clinic and its desire to expand, Lhota expressed concerns that the changes would apply to the entire area, opening it up for similar uses.
"Our concern is that the village [is] considering a text amendment to the [Equestrian Preserve] regulations, which would affect hundreds of residential [parcels], to correct a legal non-conformity on a 3-acre piece of property," she said.
Committee Chair Cynthia Gardner asked whether a variance for the clinic property had been considered. Lhota said it had, but she noted that the applicant wanted to bring the property in line with Wellington's code. "They don't want to run into problems in the future," she said.
Lhota said she proposed using a provision under Wellington's code that allows for a one-time limited expansion for properties that don't conform with village code.
But Cramer said it was not possible to give a property owner a variance for the use of the property. She noted variances are used typically to green-light structures that do not meet village codes, but are already built.
"The issue is not with the structures on the property," she said. "The issue is that the [veterinarian clinic] is a non-conforming use."
Growth Management Director Bob Basehart agreed. "If it were the structures that were the issue, that wouldn't be a problem," he said. "However, the code strictly prohibits — and I believe state law strictly prohibits — the granting of a use variance."
Gardner asked him for further explanation. "They're not changing it from being a vet clinic," she said.
But Basehart explained that a vet clinic was currently not allowed in that area. "They would be expanding a use that is not allowed under the code," he said.
Village Attorney Laurie Cohen explained that even if the clinic was given a variance, it would still not be allowed under the code, which could cause future problems.
"If there was a fire or something of that nature, [the clinic] would not be able to rebuild," she said. "The whole point in trying to get it to a conforming use is to make it allowed under any circumstances."
John Schmidt, representing Palm Beach Equine, said the clinic wants to come into compliance with village code.
"If there were any sort of catastrophic issue with the property, we couldn't rebuild," he said. "We want to add a vet clinic as a permitted use in a residential district. I would think that would be something this board would promote."
Schmidt said the change would not necessarily lead to a proliferation of vet clinics.
"It would require a master plan amendment that would go before your board, the zoning board and the Wellington Village Council," he said. "If someone wanted to open a vet clinic in [the area], they would have to apply for a master plan amendment with a public hearing process. There are protections in place. This does not open up the possibility for vet clinics to pop up all over the place."
Cohen said staff suggested the applicant apply for a commercial recreation designation, which is allowed under the code, but the applicant did not think he would get support from the council. "They floated it by the council and didn't feel they had support for it," she said.
But McCullough said she wasn't sure where that impression came from.
"My lawyer had a conversation with the Jacobs [family's] lawyer today, and I think we all agree [a commercial recreation designation] makes the most sense for this property," she said. "It's suitable for the community. I believe that the council would see this if we could show support from the surrounding neighborhoods, the Jacobs family and myself."
Schmidt said he made inquiries about the change in designation but did not think it would work.
"We would have to limit the uses and the square footage," he said. "If [McCullough] would like to roll the dice with her money down the road — it costs $75,000 to do this land-use change — we can talk to her about that then. That is not before you tonight."
Cohen said the committee could make recommendations for changes to the proposed amendments, or choose to recommend or not recommend the item as is.
"Unless the applicant withdraws their application, they're entitled to have it move forward and be reviewed," she said. "We can't change tonight what the applicant has requested."
Schmidt requested that the committee move the item forward, whether they would recommend approval or not. "To stand here and debate is not appropriate," Schmidt said. "We deserve the chance to have this moved forward."
Committee Member Dr. Kristy Lund said she didn't want to debate the whole issue over again.
"I thought the purpose of this meeting was for them to come back with some additional standards. They've done that," she said.
Committee members voted unanimously to recommend approval of the item. It will now head to the Planning, Zoning & Adjustment Board.