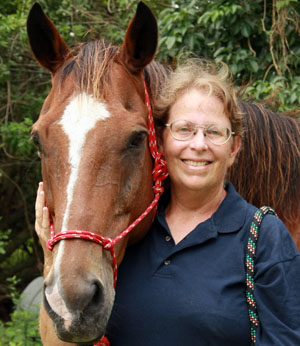 TAILS FROM THE TRAILS
"I live in The Acreage, and I've noticed the fireworks getting progressively worse each year," Patricia Davidowitz said. "I currently have three horses. But last year, I also had Emily, a rescue horse who was very sensitive and frightened of loud noises. I decided to be smart and move her out of this area for the Fourth of July, so I brought her to a friend's house."
Despite this precaution, it was not enough to protect Emily.
"Unfortunately, someone set off some firecrackers near that farm. She panicked, ran through a fence and completely fractured a hind leg. We put her down immediately. It was horrible, just tragic," Davidowitz recalled.
Part of the problem are the competing reasons people move to communities such as The Acreage. "I think new people move to rural areas like this, see a lot of open space, and think it's the perfect spot to shoot guns and set off fireworks," Davidowitz said. "I speak with my neighbors, and most of them are very nice and understanding. But you can't talk with everyone. Someone on my street set off a couple of rockets horizontally. One hit someone's carport, another hit the roof of my barn. Luckily, nothing caught on fire. Thank God I was home. I never leave my house on the Fourth of July. I refuse to leave my horses unsupervised."
According to Davidowitz, the problem has been getting worse.
"It got so bad this year, fireworks going off night after night, that I decided enough was enough. Every year I call the police and complain, and they usually send someone out. This year, they said they were overwhelmed and couldn't send an officer. I decided to do something about it. I was on a mission," she said. "I contacted the Indian Trail Improvement District to find out about having a neighborhood meeting. I e-mailed the fire marshal, Gov. Rick Scott, two senators, both congressmen and West Palm Beach Mayor Jeri Muoio. I got no personal response, just a message saying they'd received my e-mail."
Davidowitz believes changes need to be made.
"Ethically, something must be done. Maybe there could be some different laws regarding equestrian areas," she said. "There are all these big tents that sell fireworks just down the road each year, along with other stores. Why are the interests of non-horse owners more important than those of horse owners? I don't understand why no one does anything about it. Fix the stupid scaring-the-birds loophole before someone gets seriously hurt or killed. There are endless scenarios of what could happen."
I, too, was curious about why illegal fireworks can be sold.
"Illegal fireworks can't be sold by any retail stores or tents," explained John Harsch, a fire marshal inspector. "Stands and retail stores can only sell small stuff, sparklers and showers of sparks. They can't sell things that report: anything that explodes, like roman candles or bottle rockets. We have a very strict building code governing stores that sell fireworks that report, including fire alarms, sprinkler systems and adequate exits. We inspect them four times a year."
A search turns up nine such stores from Stuart to Boca Raton.
"Anyone who is going to set off fireworks that report needs a permit," Harsch said. "Signing a waver doesn't really protect you. It's my understanding that setting off such fireworks without a permit is not legal, but it's nothing we enforce. That's up to the PBSO."
People always need to be aware of their surroundings when setting off any type of fireworks, Harsch said.
"They cause many injuries, burns and fires, especially in a dry year. Sparks can smolder and later burst into flame. And, of course, if there's alcohol involved, people get a little crazy and a little careless," he said. "Alcohol and fireworks are a bad combination. My advice is go watch a big show, and leave the fireworks to the professionals. They know what they're doing."
Indeed, some years back, one of my neighbors who has since moved away, was feeling no pain, as they say, and set off a whole bunch of bright, loud rockets. The palm tree on his front lawn caught fire. We saw the blackened husk of it the next day. Luckily, nothing else burned.
"I don't want to ruin anyone's fun, but there are lots of big shows put on by all the towns," Davidowitz continued. "Why can't people just attend those and forget the backyard fireworks? I think if people really understood the situation, they might think twice. I desperately want large roadside signs, like they have in Wellington, and a visible police presence."
Wellington does, indeed, place large 4-foot by 4-foot A-frame signs in eight different locations within the community a week before the Fourth of July until the day after.
"The signs sure help remind people that this is an equestrian area, and that fireworks are illegal," said Gary Goodwin, graphic artist and maintenance worker with the Wellington Public Works Department. "I've been with the department seven years, and I think the signs help keep down problems and complaints."
Acreage official are aware of the issue.
"Out here in The Acreage, the fireworks and gunshots usually run from the end of June through mid-July," said Jennifer Hager, president of the Indian Trail Improvement District. "Then they do it all over again for New Year's. The worst ones are the mortar-type bombs and the whistling bottle rockets. I'm thankful my three horses don't react, but I always stay out in the barn with them, keep the radio on and throw a lot of extra hay. I definitely get the problem and understand horse owner's fears."
Hager said she favors a community meeting on the issue. "I like the idea of having a meeting and discussing this problem. I'd like to include the Acreage Horseman's Association," she said. "What we have to do is educate the non-horse people and teach them to be considerate and respectful. I honestly think that they just don't know."
Linda Rainbolt, president of the Acreage Horseman's Association, wants a solution to the problem. "I hate all the fireworks. We have to do something," Rainbolt said. "Horse owners in these areas can never go anywhere around the Fourth of July. Sure, I'd like to go see a show. I don't dare leave my horses. Twenty years ago, when it wasn't this bad, I had a horse get so scared by fireworks that she jumped a fence. I didn't find her for three days. These people are breaking the law. It's really hard on horse owners."