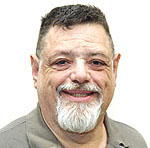 'I' ON CULTURE
We just got back from a fabulous vacation at the Moon Palace Golf & Spa Resort just outside Cancún, Mexico. Some people like to rough it on a vacation; I prefer to be pampered and treated like royalty. And this resort certainly does it, while being all-inclusive. You pay upfront and don't get pecked to death by extra fees.
On the Monday we arrived, we quickly met with Juan Omar, the concierge for our building (number 87, to give you an idea of the size of this resort). He made certain we made the right choices among the seven pillow variations provided (orthopedic to lavender sachet) along with just the right aromatherapy. After that, this pleasant, urbane fellow, who had once taught Spanish in France, made certain that our minibar was stocked with only the beverages we like and started making reservations for us.
Tuesday, after a nice day on the beach, we were booked into Momo, a really good Asian fusion restaurant, where we had a great meal before heading over to a Beach Boys concert, where we had comped seats in the 16th row. Mike Love and Bruce Johnston, two of the original members, backed by a five-piece band, did a full 90-minute show. Good vibrations, indeed.
Wednesday, I went swimming with dolphins, something I've wanted to do for decades, and later we were booked into La Trattoria, a five-star Italian restaurant where the waiters were quite ready to discuss exactly what wines would work with our unbelievably tasty meals.
Thursday was set aside for some shopping in Cancún, where Maria was brought to a sister hotel, had a complimentary lunch and did serious shopping. Friday was spa day for her, with a facial and 90-minute massage before we were comped for a really good Cirque Dreams show, ninth row center.
We ate most breakfasts at El Caribeño, a great place that does a fantastic ceviche in the evenings. Maria mentioned to Adriana, our hostess, that she wished they did paella there; it is not part of Mexican cooking, but Maria's dad is from Barcelona. We were invited to come to the restaurant on Saturday for lunch. Service captain Ricardo brought over the chef, who prepared a great seafood paella for her (as well as for other lucky diners who wanted it). Talk about being pampered. We went to the resort last year and were actually recognized by several of the staff.
We managed several more exceptional meals, a couple of romantic walks on the beach, some fun time in the jacuzzi for two included with all rooms and a fabulous infinity pool that bordered on a wildlife preserve, featuring crocodiles on the other side of the concrete. Of course, being South Floridians, we were not impressed since just about every lake in our area has at least one alligator, but the European visitors, of whom there were many, were fascinated.
My wife told me to mention the manicure/pedicure/mini-massage sessions we got. The ladies at the spa work hard and are very sweet, even if they let her take photos of me getting the pedicure that she can use for future extortion.
We spent several of our evenings either at some of the small-scale shows that the resort presents (they have a great Mayan traditional show, a fire show and, to keep some things more current, a Michael Jackson tribute, among others), or at lounges where we heard some good singers as the staff kept refilling our glasses.
We actually had a sad moment on Saturday as we met with one of the service people to arrange for our free transportation back to the airport. Knowing we only had a couple of days left was sad. Somehow, I am certain there is a cosmic error that keeps me from living like we did there for every week.
How much did we pay? Well, once you pay the fee for actually going, there is not a lot more to pay. The Palace Resorts had a $1,500-a-week credit, which we used for the spa and for my swimming fun. Aside from paying the taxes on the activities (required by Mexican law), the only other expense was paying for professional photos of my dolphin session. My wallet stayed in the safe in my room the whole time.
So, go off and camp in the woods. Overcook or undercook your meals over the fire and wonder whether strange wildlife will disturb your sleep. Different strokes for different folks. But as for us, we're already planning a return visit. I like being treated really well, able to pretend that I could really live such a great lifestyle.