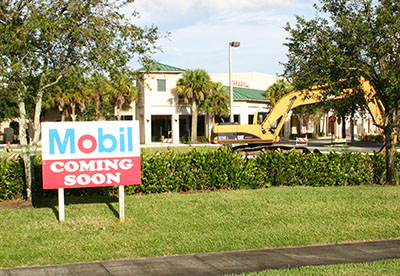 Construction is underway on a Mobil gas station at the Grove Market Shopping Center on Seminole Pratt Whitney Road, which some residents welcome but others view with skepticism.
The primary concern with gas stations in The Acreage is water table contamination should there be a spill.
"I'm not really thrilled about all these gas stations popping up out here," Indian Trail Improvement District Vice President Carol Jacobs said. "Being out in The Acreage, we're on wells."
Jacobs noted that she was also not pleased with the approval of a gas station at the nearby Publix shopping center, although she admitted that she now uses it because she rarely leaves The Acreage.
"I feel safe when I get gas there, but I was worried that it was going to open the door for many more gas stations, and it sure has," Jacobs said, pointing out that the Acreage Landowners' Association Neighborhood Plan called for no gas stations.
The new Mobil station is technically not in The Acreage. It is in the Seminole Improvement District controlled by Callery-Judge Grove.
"You've got people out here who want to turn it into a city, and you have the ones who want to keep it the way it is," Jacobs said. "I feel that we live in a beautiful community, and I don't mind going into town to do whatever I need to do. I like coming out to the peace and quiet here, and I hate to see it ruined."
While most Acreage residents work elsewhere and get gas elsewhere, Jacobs did note that the Publix station is always crowded. "It's bumper to bumper, and that gas truck's there every day," she said.
Aside from water issues, Jacobs is also concerned about increased traffic on Seminole Pratt. Large trucks use the road as a thoroughfare, and there are also students from Seminole Ridge High School. "Trucks and children driving for the first time just don't mix," she said.
The ITID board strongly opposed a recent application for a land-use change from rural residential to commercial at the southeast corner of Northlake and Coconut boulevards; among its reasons was that the plan called for a gas station. The developer ultimately withdrew the application to pursue different plans.
ALA Governmental Liaison Mike Erickson said his organization wrote a letter supporting the Mobil station when it received approval from the county in 2011. He added, however, that the ALA balance of power has changed since the letter was written.
"If you ask me, it's a perfect location for a gas station," Erickson said. "It won't affect any of the wells because it's right in the middle of Callery-Judge."
Callery-Judge, when and if developed, will likely have a municipal water system, he noted.
"If you're going to minimize the impacts to any kind of well water or issues of that sort, I think it's a great location for it," Erickson said. "We need some of those services."
Erickson said the Mobil station will have a better layout for traffic because there will be more space than when the Publix gas station was approved, which received criticism at the time of its approval for its constrained size.
He also pointed out that the store attached to the gas station will be the first convenience store in the area. "It's not officially in The Acreage, but it's in the best place it could be," Erickson said.
ITID Supervisor Michelle Damone, who was ITID president when the plan received approval, said she thought it was a good location.
"It's in front of the old Winn-Dixie plaza," Damone said. "It doesn't have a hub and a lot of the businesses are closing in there, so it's an opportunity to drive traffic and drive business back into a dying plaza."
Damone said one of the conditions is to provide a traffic light at the intersection; students frequently park their cars at the plaza to walk to the high school.
"They have a convenience store that's supposed to go in there with it," she said. "It's much bigger. It's not a typical gas station with a convenience store in it. It's larger in size and a little more convenient for cars to get in and out."
Damone also pointed out that modern gas stations with double-wall storage tanks and leakage detection alarms are not as critical as a water issue.
ABOVE: A Mobil gas station is under construction on Seminole Pratt Whitney Road at the Grove Market Shopping Center.