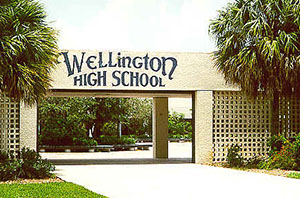 BY ANNE CHECKOSKY
Students who've dreamed about becoming firefighters or paramedics will get an opportunity to take their first steps in realizing that goal at Wellington High School this year.
The Wellington High School Fire Science Academy was created with the goal of preparing students to sit for state industry certification as Level 1 firefighters. This level of certification is required for students to work as volunteer firefighters.
The long-term goal of the program is to prepare students to enter a state college and complete firefighter/paramedic training to earn an associate's degree, said WHS Academy Coordinator James Marshall, a science teacher at the school.
Students successfully completing the program are likely to be highly qualified to enter college-level programs, representatives from Palm Beach State College told Marshall.
The academy accepted applicants for the first year of the program, Firefighting 1, beginning this school year. So far, 40 students — 35 freshmen and five sophomores — have enrolled, said Marshall, who will also teach the first-year fire academy course.
"We'll offer a good foundation for what a firefighter does," he said.
That will include visiting area fire-rescue stations and having fire-rescue personnel come on campus and speak to the students. Students will also meet a battalion chief, Marshall added.
Students of all abilities are welcome to enroll in the class. If they decide after trying it out that it's not for them, that's OK, too. "We're testing the waters. There's nothing binding," Marshall said.
Students will learn the basics in the first-year course, including introduction to fire science, extinguishment, hazardous materials, fire inspection prevention practices, emergency medical care and the hierarchy of fire-rescue stations, among other topics.
In the second-year course, Firefighting II, students will learn how to work with firefighting protection equipment, including SCUBA gear, ladders, fire streams and water supplies, Marshall said. In Firefighting III, students will learn how to use forcible-entry equipment and participate in controlled-burning exercises.
A certified firefighter will be hired to teach the subsequent courses, Marshall said.
The high school expects to graduate its first class in 2017, with a total enrollment of a maximum of 200 students.
The course was developed with standards set by and with approval from the Florida Department of Education and with the Choice & Career Options Department of the Palm Beach County School District. It follows the state's curriculum framework of introduction to firefighting in the career preparatory cluster of law, public safety and security.
The idea for the academy arose after last year's "Shattered Dreams" event at the school, Marshall said. Each year, the school dramatizes the impact of distracted driving by staging a prom night "accident" on the football field, complete with fire-rescue personnel on hand to treat the "injured" and landing the Palm Beach County Sheriff's Office Trauma Hawk helicopter on the field.
Marshall noticed that many of this year's volunteer firefighters and paramedics were former WHS students. In fact, eight who enrolled in the course this year have parents who are firefighters. "It's a legacy issue," Marshall said.
Another aim of the academy is to get the students hooked on public service. "I call it training tomorrow's leaders today," Marshall said.
In addition to the new fire academy, Wellington High School also offers choice programs in drafting and communication design, equine/pre-veterinary and marketing.