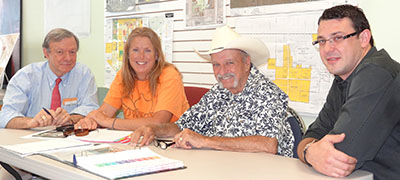 The Palm Beach Horse Park, a Western-oriented equestrian complex proposed for construction on Wellington's K-Park property, has created an Equestrian Advisory Board to provide expert guidance and gather feedback from fellow equestrians as plans for the horse park's facilities continue to progress.
The Palm Beach Horse Park is intended to supplement Wellington's existing equestrian activities by serving as a year-round destination for Western riders and competitors. It will also support the local community by offering public events, such as concerts and trade shows.
The plans for the horse park include a 4,000-seat enclosed and climate-controlled stadium, a number of covered indoor and outdoor show rings, a supporting commercial district, a hotel, a unique veterinary instructional facility and an international riding school.
The Equestrian Advisory Board members will bring their individual backgrounds and expertise to the table as they give advice on the Palm Beach Horse Park's development. Current members include LaVerne Jones, a professional barrel racer; veterinarian Dr. James Belden; Alyce Michelbrink, an experienced equestrian in the Western disciplines; and Jon Ingram, a professional reining and cutting trainer.
The Equestrian Advisory Board is still being finalized and new members may join the board in the coming months. The goal is to bring together a well-rounded group of equestrians who can speak to the needs of many different disciplines and draw on their connections for further insight.
"We get everybody's opinion so that we can have a focus on what the people want," said Alexander Van Dell, a member of the Palm Beach Horse Park Development Team. "You have a lot more ears when you have five or six people on the board who then talk to everyone they know."
The Equestrian Advisory Board will meet independently of the development team, giving them the opportunity to discuss ideas and determine what recommendations to make.
Plans and designs for the horse park are rapidly progressing. The model is undergoing revisions as the development team works to find an ideal layout to suit all of the facility's various uses, which will include equestrian competition, community events, educational programs, shopping, dining and more.
Keep up-to-date with the latest news about the Palm Beach Horse Park by visiting www.palmbeachhorsepark.com. For more information, contact Jack Van Dell at (561) 333-3100 or e-mail palmbeachhorsepark@gmail.com.
ABOVE: Jack Van Dell, LaVerne Jones, Jon Ingram and Alexander Van Dell during a preliminary Palm Beach Horse Park's Equestrian Advisory Board and Development Team.