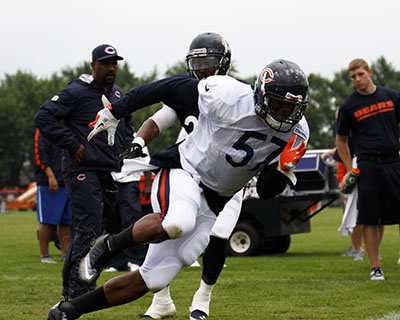 It's a position in sports that has resonated over time. It's like playing center field for the New York Yankees or being the starting center for the Los Angeles Lakers. Playing middle linebacker for the Chicago Bears is not only a position one plays, it's an honor and legacy to fulfill.
The names of former Bears middle linebackers read like a list of National Football League Hall of Famers: Bill George (who is said to be the first true middle linebacker in NFL history), Dick Butkus, Mike Singletary and eventual Hall of Famer Brian Urlacher.
Former Palm Beach Central High School standout Jon Bostic has the potential to be the next in line. In April, Chicago chose Bostic in the second round (50th overall) of the 2013 NFL Draft (just months after Urlacher announced his retirement). Although Bostic pledges not to look too far into the future, those who have been around him know he is destined for success.
"Jonathan's ultimate goal as a child was to play in the NFL, and he grew up watching the greats," Bostic's younger sister Jayla said. "He really looks up to Dick Butkus, Mike Singletary, Brian Urlacher and many of the other great linebackers from the Bears, so I know it would mean the world to him to be the next one to take the throne."
Bostic will also follow in the footsteps of his father, Jon Sr., who played in the NFL for the Detroit Lions from 1985 to 1987. He also acquired athletic genes from his mother, Jacqueline, who was a cheerleader and softball player. Bostic's athleticism was apparent at an early age, but not in the sport one would think.
At age 10, Bostic was the best player on coach Pete Belin's youth basketball team at the Wellington Recreational Center. "He was probably the most athletic one on the court, but it's kind of hard to tell at that age," Belin said. "When I coached him, I didn't see him as a five-star athlete that would end up playing SEC [Southeastern Conference] football."
The Bostics even tease Jon because he was once better at basketball than he was at football. Just a few weeks ago, the family watched a home video of Jon's first time playing football. Even Jon had to laugh at how bad he was.
His skill set eventually took off and he starred as a defensive back at PBCHS. He values his time at the Wellington school. "It's pretty much where I started, and it really gave me the stepping stones to get to where I am today," he said. "I learned a lot there."
Bostic was one of the nation's top recruits as a senior and was recruited to the University of Florida as an outside linebacker. He played immediately for the Gators in 2009, and took over the middle linebacker position as a junior. It was then that Jayla said the Bostics realized that he had NFL potential.
But Bostic had been dreaming about the NFL all along, and in April, it became reality. "Emotions were high," he said of draft day. "It's something that I worked for all my life and dreamed about all my life, and now it's pretty much right in front of me."
Bostic is currently at the Bears training camp in Bourbonnais, Ill., as a member of a defense known in football circles as the Monsters of the Midway. He's in the same meeting room as Lance Briggs, D.J. Williams and James Anderson. And last week, with Williams hurt, Bostic called the plays for the first-team defense. "It was good," said Bostic, who has been rotating between the starters and second team. "I really just looked at it as a chance to get better. I'm not perfect in any given area, so I have to keep improving… Playing college football, that's one thing. But playing at this level, you're playing against some of the best athletes in the world."
Bears coaches have recognized Bostic's humbleness and talent. "He's steady. He's solid. He doesn't get rattled. He's super smart, and he really wants to be good," Bears Defensive Coordinator Mel Tucker wrote in an e-mail. "I'm really glad we have him. I think he has a chance to be a superb player… We don't want to get too far ahead of ourselves because we just have a long way to go right now, but I really like his demeanor… He does have leadership ability and leadership qualities. He's smart, he doesn't make the same mistake twice, he asks good questions and he works hard."
Former Wellington High School and current Webber International University linebacker Chris Thomas has followed Bostic's career at PBCHS and UF. He is also a devoted Bears fan. "Monsters of the Midway describes the Bears consistent hard-nosed defensive approach," Thomas said. "But what really epitomizes them is the play of their middle linebackers over the years. Filling the shoes of Urlacher is going to be a challenge, but Bostic's rare combination of size and speed gives him a great chance to compete."
Marc Trestman, head coach of the Bears, likes what he has seen so far.
"Jon is a very mature guy. He's been around football a long time. He's from a football family. He's got a real presence to him, an even-keeled demeanor," Trestman wrote in an e-mail. "He's got an opportunity here."
For Bostic, he knows about the shoes he may one day fill. "I know that the history has been here for a long time, and that's still something I'm learning," he said. "Any time I get free time that's definitely something I try to go and look back at… To just see how things were in the past and the legacy that a lot of those guys have left."
ABOVE: PBCHS alum Jon Bostic was chosen last April by the Chicago Bears in the second round of the NFL Draft. PHOTO COURTESY CHICAGO BEARS