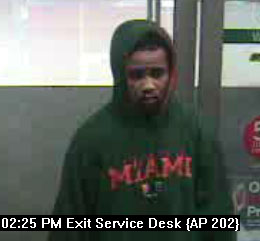 JULY 24 — On July 24, just before 11 p.m., an unknown male entered the Super Target store on Okeechobee Blvd. in Royal Palm Beach and proceeded to rob a clerk at gunpoint.
The suspect is described as light-skinned black male, approximately 6'1", medium build, wearing a green Miami Hurricanes hooded sweater, dark jeans and a black bandana.
If anyone can identify the suspect, they are urged to contact Crime Stoppers 1-800-458-TIPS.