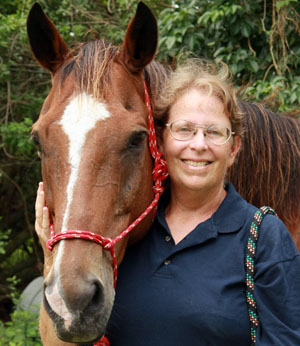 TAILS FROM THE TRAIL
You may have driven by the Museum of Polo & Hall of Fame, located at 9011 Lake Worth Road. It's worth a stop. They're open Monday through Friday from 10 a.m. to 4 p.m. During the season (January through April), they have Saturday hours from 10 a.m. to 2 p.m. Admission is free.
It's friendly and welcoming, the only polo museum in the world, dedicated to fostering an appreciation of the development of the game by collecting, preserving and exhibiting information and artifacts, as well as honoring those who've made outstanding contributions to the sport.
Executive Director George DuPont kindly showed me around one Wednesday afternoon. He enjoys playing stick and ball, and really admires the top players who stop by frequently. "The museum opened in 1986, and I began working here two years later. Many of our visitors have never even watched a match," he said. "But they can learn a lot about the game by coming here. We have the most important U.S. polo trophies on exhibit, along with videos, art collections and memorabilia. We preserve yesterday for tomorrow." Exhibits illuminate polo's 2,600-year history, best playing ponies and a day in the life of a polo pony, women in polo, famous tournaments and players, and a celebration of the 100th anniversary of the U.S. Open Championship. There's artwork, paintings, sculptures, lots of silver cups, an ancient Chinese scroll and a wooden practice horse covered with a green horse blanket.
Two saddles stopped me cold. I stared at them, not daring to touch them, though no barriers stopped me. These polo saddles had belonged to Gen. George Patton and Tom Mix, one of the early film cowboys. Patton's saddle was utilitarian. Mix's was covered with hand-tooled scrollwork, his initials embossed into the seat. The Hall of Fame at the museum honors the heroes of the sport, each year inducting icons of the past and eligible living heroes. An awards gala, held on the Friday of President's Day weekend, is attended by a who's who of the polo world. In 2000, Horses to Remember was added, and in 2001, the Philip Iglehart Award for individuals who've made exceptional lifetime contributions to polo.
Brenda Lynn is the museum's director of development. She used to breed Arabians before coming to work at the museum.
"I don't have time to ride anymore," she said. "I eat, drink and sleep the museum. I'm constantly busy reorganizing the collections, traveling and promoting the museum. It's both my hobby and my job. I love what I do. My main interest is documenting the polo ponies. Most people are familiar with the human players; I wanted to preserve the ponies' stories. We have a traveling exhibit. I hope to expand the collection and add more artwork, more exhibits and more artifacts."
Lynn shared her personal highlights.
"My very favorite exhibit is the wooden practice horse. It belonged to Tommy Hitchcock, one of the greatest players who ever lived," she said. "And the blanket belonged to Tobiano, his most famous horse. I get psyched when I touch it. This blanket touched that horse. It has his DNA on it."
During the 1920s, polo players became American heroes, none more so than Tommy Hitchcock Jr. A 10-goal player by age 22, Hitchcock was the leader of a generation of young players who would eventually control the destiny of the sport in the Golden Era. It is rumored that F. Scott Fitzgerald may have based Jay Gatsby on him. The practice horse and blanket were donated, as were so many artifacts. "They drove the horse down here from Long Island tied to the top of a van. Can you imagine?" Brenda asked, her eyes alight.
She's full of fascinating stories, including how they came to possess a set of 16 hand-painted Limoges plates from the early 20th century, each depicting a different player and pony. Some of the famous names: Jay Phipps, Augie Belmont, H.P. Whitney and other great players of that era.
"Nancy Milburn, the granddaughter of Devereux Milburn, said she'd found some old plates and asked if we wanted them. We drove up to the Milburn estate in Narragansett, Rhode Island," Lynn recalled. "Devereux had been one of a team called the Big Four, which included Harry Payne Whitney, and brothers Larry and Monty Waterbury. They won the Westchester Cup in 1902, 1911 and 1913, and never lost an international match during those years." While they were there, Nancy Milburn asked if we might be interested in a cardboard box she'd found in the basement.
"It was dented, partially crushed, covered in mold. It held a painting so moldy we couldn't even see the picture," Lynn said. "We had it restored, and it turned out to be a portrait of Devereux on Jacob by F.B. Voss, commissioned in 1920 as a gift. Another six months, and it would have been damaged beyond restoration."
Lynn really hits her stride speaking about the ponies. For example, Tenby was Devereux Milburn's favorite mount. He rode Tenby for three chukkers in 1911, 1913 and 1914 championships. He also rode at the 1921 matches, when the horse was 18 years old.
"Unfortunately, on the voyage home from England — riders and horses traveled on ocean liners back then — Tenby became ill and died," she said. "Prayers were recited, he was draped with an American flag, and buried at sea."
Then there was Belle of All, a Thoroughbred who didn't like to race. "She was sold and sold and resold, and finally was hauling a cart when someone saw her being abused, bought her and retrained her for polo," Lynn explained. "She ended up with Louis Stoddard and played brilliantly, praised for her incredible speed, stamina and courage. It just goes to show that if a horse falls into the hands of someone who understands and connects with her, she can become a superstar. The riders play because they chose to. The horses play for the love of the game. They have great heart and dedication. Most people watch the players when they attend a match. I watch the horses. I'm really off my rocker about the horses." For more information, visit www.polomuseum.com or call (561) 969-3210.