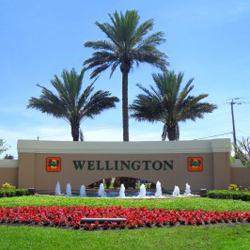 Wellington residents won't see a $100 increase in their Acme Improvement District assessments this year after all. A mix-up with paperwork meant that Wellington was unable to set the new rate in time for this year's budget.
Instead, members of the Wellington Village Council gave final approval Tuesday to a measure to keep the Acme Improvement District's drainage assessment the same as in previous years.
"This notice sets the rate at $200, which is unchanged from last year," Village Manager Paul Schofield said.
Councilman Matt Willhite tried to clear up any confusion for residents, who already received notices that their bill would increase.
"You may have received a letter in your water bill letting you know that there would be an increase in our Acme Improvement District assessment from $200 to $300," he said. "Due to some mistiming in filing proper paperwork on our part, that rate won't be changed."
Last month, council members voted to increase the rate by $100 to finance needed drainage improvements.
"That rate increase was to try to put a long-range plan together and mitigate some water issues we've been having recently with significant flooding in some areas of the village," Willhite said. "The money wasn't just to raise your rates and put money in the coffers."
But Wellington hasn't abandoned its plans to improve drainage, Vice Mayor Howard Coates said.
"Based on my understanding with the village manager, this delay in implementing the assessment should not result in a delay of our first-year plan of the drainage capital improvements," he said.
Coates said he had received many calls from residents concerned about drainage and wanted to reassure them that Wellington would still be making improvements.
"I want you to know we are sensitive to the issue," he said. "I would have liked for this to have been funded this year, but I don't think it will make a difference in terms of the start date."
Councilman John Greene agreed. "We have dollars put aside and will begin to work on some of these projects," he said. "I know staff has been looking at this diligently."
Willhite said residents should expect the increase next year.
"We will be looking to do that in the future," he said. "To have major thoroughfares like Forest Hill Blvd. have a foot of water on them just isn't safe. Next year we are going to continue to work toward that plan. It's about $30 million in improvements we need to do."
Willhite directed staff to send a letter to residents informing them that there won't be a change.
Councilwoman Anne Gerwig clarified that not all residents are in the Acme Improvement District. Some newer parts of Wellington in the area of State Road 7 are in the Lake Worth Drainage District, not Acme.
"If you didn't receive a notice, you may not be in Acme," Gerwig said.
Gerwig also noted that the areas within Acme suffered the most flooding in recent storms.
"But the drainage issues are within the Acme Improvement District," she said. "It does seem appropriate to have the increase, because that's where the drainage issues are most significant."
Gerwig hoped Wellington would be able to fix all the drainage problems.
"I think we all agree that we need some long-term drainage solutions," she said. "Especially in the south portion [of Wellington]. But it's pretty pervasive. We have changed the drainage system over the years to meet federal standards. So some of it is just timing, but it needs to be done and paid for. It won't be inexpensive."
Coates said he is not a fan of raising assessments but believes the improvements are necessary.
"No one likes to sit up here and say there's going to be any kind of a tax increase," he said. "On the other hand, no one likes to get a call that their house is almost underwater or that the roads are underwater and you can't get to your home. Those are the things we, as council members, have to take to heart."
The council then approved the three resolutions to set next year's assessments.