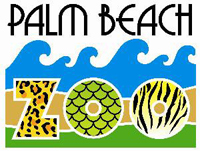 Back by popular demand, the Palm Beach Zoo will hold an expanded Food Truck Safari on Saturday, Aug. 31, from 5:30 p.m. to 9:30 p.m., with more food trucks participating than ever before.
For the first time, a food truck will be honored with a Sustainability Award for its environmentally friendly practices. Gourmet food trucks will be spread throughout the zoo near various animal exhibits. More than 1,000 people attended the inaugural Food Truck Safari in July. Ron Brooks, events manager for the zoo, said it showed the public has high interest in continuing the food-truck partnerships.
"Our first-ever Food Truck Safari in July was a blast," Brooks said. "Lots of folks got a great experience, a wide variety of excellent food and an opportunity to learn a little more about why the zoo is here. Zookeeper talks about our Florida panthers, jaguars and Malayan tigers gave attendees a chance to see these magnificent creatures up close, and learn what can be done in our everyday lives to help protect them."
Brooks said he felt it was natural to have a second event. "This time, we're bringing it back, with even more up-close animal encounters and more food trucks," he said.
The zoo also announced that "The Daily Special" is the winner of the August food truck Sustainability Award. Food trucks that use sustainable practices will be marked with "paws of approval" on their signage. The zoo examines 21 sustainability criteria specifically designed for food trucks, measuring the following areas: food source and history, preferring organic, locally farmed options, use of biodegradable and recycled products, more efficient generators and no chlorofluorocarbons (CFC-free) refrigerators, recycle everything possible and proper disposal of the remainder
Food trucks confirmed to attend, with possibly more to come, include: The Daily Special, Spring In Roll Out, BFF, Taco Fresh, PS561, Dolce Gourmet Cupcakes, Paradise Shave Ice, Da Burger Shack and Crazydilla.
Live music will be provided by the Kat 'n' Eddie Duo near the zoo's fountain plaza, as well as Andre Michaud from Smiley Tunehead in the Mayan plaza area. Admission for adult zoo members is $9 and for non-members, $10. For children who are zoo members, admission is $6. For child non-members, it's $7. The food trucks accept cash and credit cards, and are donating a portion of their proceeds to the zoo. Gate proceeds support the zoo's daily operations.
"The popularity of gourmet food trucks is a wonderful fit with the zoo's interest in locally grown, organic food offerings," said Andrew Aiken, president and CEO of the zoo. "Our Food Truck Safari is a great opportunity to explore where our food comes from, how it's produced and how that process can be sustainably balanced with wildlife preservation."
The Palm Beach Zoo is located at 1301 Summit Blvd., just east of I-95 between Southern and Forest Hill boulevards. The zoo is open from 9 a.m. to 5 p.m. every day except Thanksgiving and Christmas. For more information, visit www.palmbeachzoo.org.