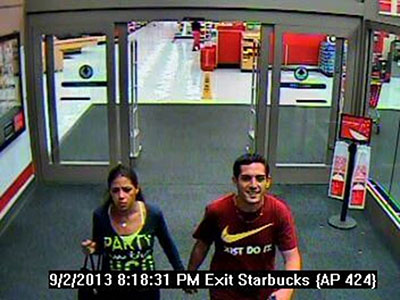 The Palm Beach County Sheriff's Office is seeking suspects wanted for three thefts from the Super Target store in Royal Palm Beach.
On three separate occasions, Sept. 2, Sept. 3 and Sept. 4, unknown suspects entered the Target store, located at 10155 Okeechobee Blvd., and stole electronic items.
The suspects removed antitheft shoplifting devices and placed the items in a female's purse.
On two of the three occasions, the suspects left in a dark-colored, four-door sedan with black wheels.
If anyone can identify the suspects, they are urged to contact Crime Stoppers at (800) 458-TIPS, e-mail tips@cspbc.com or visit www.crimestopperspbc.com.
ABOVE: The PBSO seeks information on these suspects in connection with several thefts at the Target store in Royal Palm Beach.