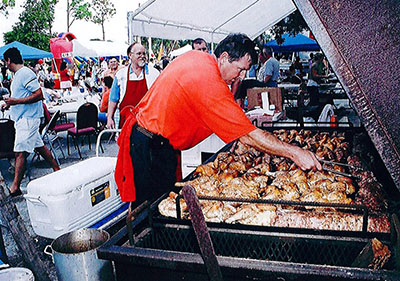 After a two-year break, St. Peter's United Methodist Church is bringing back its very popular Harvest Festival & BBQ, set for Saturday, Oct. 12 from 9:30 a.m. to 4:30 p.m.
This year's festival will be bigger and better than previous events. It will feature live onstage entertainment, a barbecue, food all day, crafters, a bake sale, carnival activities, inflatables, pony rides, a pumpkin patch and more.
The entertainment will include local dance groups, singing groups, gymnastics, cheerleading and Palm Beach Super Tae Kwon Do. Also on hand will be fire-rescue and law enforcement professionals with safety demonstrations throughout the day.
The feature of the day will be two-time Country Dance World Champions the Chili Chicks, who will be performing from noon to 12:30 p.m. and again from 1:30 to 2 p.m. In between performances, they will sign autographs and give out free Chili Chicks coloring books while supplies last. As part of their performance, they will demonstrate the art of line dancing.
There will also be some of the newest carnival games along with all-time favorites. For the younger children, ages 1 to 5, there will be pony rides, a petting zoo and other games with prizes.
Admission to the event is free. Wristbands can be purchased for all the large games for $20 for all-day use. Single tickets for the carnival games will be sold at a ticket booth located on the grounds.
There will be a large group of craft vendors located in the air-conditioned gym, along with a bake sale, food and drinks. A church special recipe BBQ dinner will be served all day with tickets available at the ticket booth. Meanwhile, the famous St. Peter's Pumpkin Patch will be open all day for anyone wanting to get just the right pumpkin for Halloween.
St. Peter's United Methodist Church is located at 12200 W. Forest Hill Blvd. in Wellington. Overflow parking will be at the First Baptist Church, 12700 W. Forest Hill Blvd., with a shuttle bus service provided. For more information, call (561) 793-5712 or visit www.stpeters-umc.org.
ABOVE: Tasty barbecue will be served all day long.