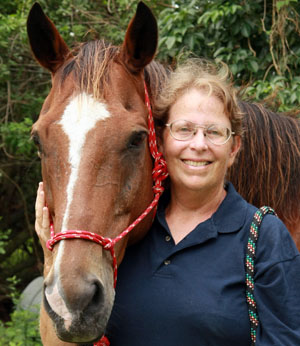 TAILS FROM THE TRAILS
Finding the "just right" riding instructor can be a daunting task. Someone can have the perfect qualifications, but he or she still may not be a good fit for you and your horse.
I've seen some instructors at shows I wouldn't allow within 10 feet of any of my horses, and others I wouldn't allow within 10 feet of me! (Notice how the horses always come first.)
Sometimes the relationship sours, or someone moves, or rates get too high, or you outgrow your teacher. But when you find a knowledgeable, nurturing, skilled instructor, that's a match made in heaven. And that's what I found when Cat Hamilton arrived to work with me and my horses.
Originally from Northern California, Hamilton grew up in the San Francisco area.
"My dad helped me buy my first horse, an appaloosa," she recalled. "He cost $400, and we each paid half. I was 15, going to school and working at McDonald's. I wanted to take lessons with Hazel Putnam, a friend of Sally Swift who developed Centered Riding, but I couldn't afford it."
However, when there's a will, there's a way.
"Hazel liked me and took an interest in me, so after every lesson, I'd drive her over and buy her an ice-cream sundae. She gave me homework each time, pony club stuff like taking a bridle apart and putting it back together, telling a horse's age by his teeth or explaining how conformation affects movement," Hamilton said. "Hazel was in her 80s, a great gal, and I was her last student. She retired after that due to health issues. She taught me some great techniques, like using my position to control a horse, more than reins."
Hamilton worked with other great trainers.
"I was also lucky enough to ride with Anna Zbitnoff, who taught me to do upper-level dressage movements without a bridle. Then I did some eventing with Susan Nichols when I was 20. I started teaching at 21, at Anna's suggestion," she said. "I developed a technique to help students win back or gain confidence in small steps, where they make small changes and slowly progress in ways which don't scare or overmatch either horse or rider."
Hamilton moved to North Florida in May 2011 to work at a hunter/jumper barn, but it wasn't a good fit. She also met someone online who lived in Palm Beach Gardens. They had their first date at Universal Studios in Orlando, each driving a few hours to get there.
"I wasn't too interested in Mike after a couple more dates, but he was persistent," Hamilton admitted. "Eventually I moved in with him, and when our son, Ian, came along in July 2012, he was quite the surprise. I'd had cervical cancer and thought I couldn't get pregnant. I couldn't be happier."
When I started working with Hamilton earlier this year, I had some fear issues left over from a previous horse who'd occasionally bucked hard enough to put me down more than once. Between that and the age factor — I don't bounce as well as I used to — I was a bit nervous about getting back into jumping. But soon enough there we were, if not sailing over big jumps, at least working steadily over smaller ones and thoroughly enjoying every minute. My horse, who also has some trust issues, had also calmed down considerably.
"I love training horses," Hamilton said. "I've developed a good eye for seeing what a rider is doing wrong and how it affects the horse. I like seeing someone trying something different and seeing it work, getting that spark back in her eye, saying, 'My gosh, I did this.' I love watching the light bulb go on when someone gets it."
Hamilton is also constantly learning.
"I think instructors should constantly educate themselves, keep up with new developments and learn new techniques," she said. "I always think it's a huge compliment to an instructor when a student goes on beyond what you're able to teach her. My goal is to give her the tools to develop further."
Hamilton, 44, is also working on her judging credentials.
"I used to judge open English and Western classes in California when I was in my 20s," she explained. "When I lived in Oregon, I judged hunter/jumper and schooling dressage shows. Here in Florida, I judged a show for JHA last season."
She is  hoping to become a dressage "L" judge, the beginning step of the qualified judging program.
"JHA's hosting the class-certification program, so now I'll begin the process of obtaining business or individual sponsors to help pay for the instructors that teach this," Hamilton said. "Once I pass exams and tests in the three sessions, then I have to compete in several recognized dressage classes/shows and obtain a score of 60 percent or better per test. This is not a simple process."
I have no doubt that she will succeed.
"I think my greatest strength is my ability to analyze what's going on between the horse and rider," Hamilton said. "Then I can figure out things which will help them do things better and more smoothly. Not every owner can figure out what the real issue is. They only see a horse behaving a certain way. It could be a result of poor training, a badly fitted saddle, a fearful horse or one who's in pain. My goal is to fix problems in a way that's beneficial to both horse and rider."
I enjoy working with Hamilton. She is knowledgeable and has a good sense of humor. She also rides well and has soft hands. And she shows up on time! She teaches pretty much everything: dressage, hunters, jumpers, western pleasure and trail. She's affordable, and will travel anywhere in Palm Beach County.
"I can help anyone solve their horse problems," she said. "I also love working with green horses and starting youngsters."
What's not to like?
For more information, call her at (561) 348-4272.