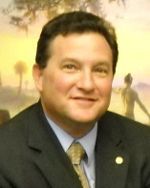 Palm Beach County's own State Rep. Mark Pafford (D-District 86) was elected by his peers Sept. 25 to serve as minority leader after the 2014 election, a role in which he believes he can lead Democrats to a better relationship with the chamber's Republican majority.
Pafford was elected in 2008 and was chosen as Democratic policy chair in 2012. His current district takes in Wellington, Royal Palm Beach and Loxahatchee Groves.
"Personally, I'm gratified that the House caucus feels comfortable with my leadership, and that will be after the 2014 election," he said. "Right now, it's a designated title. There's a lot of work. Obviously, it means that my job shifts a little bit. I have to try to be supportive of every single member, the 43 other Democrats, and help them do their jobs and represent each of their constituencies. There's a lot to do, but I think it's a good time to do it."
Some critics have said Pafford is too outspoken to be a good consensus-builder, but he thinks that is not necessarily his role, and could have the opposite effect.
Pafford was among 18 members of the state legislature to be recognized after the 2013 session by Florida Watch Action, Progress Florida and America Votes as "Champions of Florida's Middle Class" for their unwavering support of Florida's working families. During the session, those lawmakers voted to protect and expand the middle class in Florida 100 percent of the time, and championed a range of issues including protecting jobs, expanding healthcare access and ethics reform.
Although the proportion of registered Democratic voters outnumbers Republicans in Florida 41 percent to 37 percent, Republican representatives outnumber Democratic representatives in the State House by about a 2-to-1 margin.
"In the history of us being a minority, there has only been two leaders to gain seats in the Florida House," Pafford said. "One was Dan Gelber of Miami Beach, who is very much like I am on issues, and this last time, Perry Thurston [D-District 94], the current leader.
As the minority, Pafford said it's important to understand one's role in Tallahassee.
"I have a record of being very truthful about the issues that are important to House District 86," he said. "My job is to be part of a process that requires dialogue. Not everybody will partake in that. I've always thought that's a big part of my job… I understand that every issue has two sides. As leader, I think you have to be able to understand that, and I certainly welcome respectful dialogue when it comes to my new role."
Although his new role is to help all House Democrats, he said it will naturally benefit District 86.
"I think the leader coming from Palm Beach County means we have a stronger voice," he said. "My job now is to really support other members of our caucus getting out in front of issues."
That includes not only issues in central Palm Beach County, but issues that are important to Democrats across the state and Floridians as a whole.
"Obviously it brings a lot more attention, which I don't think is a bad thing," he said. "Being chair of the Palm Beach County Legislative Delegation I think has been very important to getting things done locally here in Palm Beach County. This carries with it the same type of attention, and I think actually it can be very positive for Palm Beach County."
Pafford has served as minority whip, and in the coming year he will be minority caucus policy chair, which will require him to understand broad issues.
"My job is to basically share knowledge and get members up to speed on a lot of things, or where the members are actually better at issues than I am, hopefully pick up some things," he said. "It has been a great role for me in taking on that responsibility."
Critics have also said that Pafford's role will negatively affect the number of Democrats that can be elected by polarizing issues, but he believes that contention is overblown.
"[Gov.] Rick Scott has clearly defined who he is to voting Floridians," Pafford said. "I think the last thing anybody needs to worry about is the new minority leader. To his credit, he has made a name for himself, and only he can be judged."
Pafford said his new role will be a great opportunity to work with all his colleagues on both sides of the aisle to make policy better.
"That's what I've always tried to do," he said. "I've always been a respectful member. I've never attacked anybody personally, so hopefully I can take those skills and really apply them to moving whatever agenda the majority has, making it better."
He had good things to say about incoming Speaker of the House, State Rep. Steve Crisafulli (R-District 51).
"He is a very smart individual who has also really taken it upon himself to treat people with dignity in this process and allow different thoughts to occur, and not pounce on someone because they have a different thought, but welcome that type of discussion," Pafford said. "I look forward to working with Speaker Crisafulli and hopefully having a very productive few years."