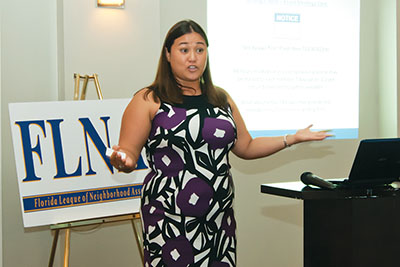 On Wednesday, Sept. 25, the Florida League of Neighborhood Associations (FLNA) conducted the first in its series of free certification training courses for homeowners' association board members.
Board members from more than a dozen HOAs in Royal Palm Beach and Wellington completed the course, which was presented by attorney Jane Bolin, managing partner of PeytonBolin PL.
The session also included a special presentation by Mitch Drimmer, vice president of Snap Collections, entitled "Developing a Uniform Collection Policy," and an update on recent court cases involving association collection issues.
Bolin also covered the many new requirements contained in this year's update of FS 720, which governs Florida HOAs, including new registration requirements and revised language on conducting meetings and elections. The session itself was a response to the new provision that newly elected or appointed board members must either become certified or sign an affidavit of familiarity with their association documents and state requirements.
"The major benefit of the session for association board members, besides learning the basic rules, was the opportunity to network with their counterparts in other associations and share their concerns and experiences," FLNA President Joseph Boyle said. "Already, there is discussion over what should be prioritized this year in Tallahassee, and FLNA is ready to facilitate bringing these ideas together."
Future FLNA training sessions are planned for elsewhere in Palm Beach County and other parts of Florida, including Broward, Miami-Dade, Tampa, Orlando and Jacksonville.
ABOVE: FLNA workshop speaker Jane Bolin.