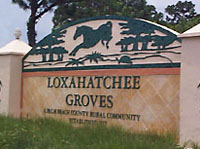 In a split decision Oct. 1, the Loxahatchee Groves Town Council approved the preliminary reading of an ordinance that would allow people with valid driver's licenses or learner's permits to operate golf carts on designated town roads.
The ordinance will be back before the council for final approval Dec. 3.
Under the ordinance, operation would be prohibited on Okeechobee and Southern boulevards and Folsom Road, which are not in the town's jurisdiction. Also, Florida statutes require that signs be posted throughout the town providing that golf carts are permitted, with language informing the public of local rules that are not in the statutory guidelines for golf cart operation, Town Attorney Michael Cirullo said.
Councilman Tom Goltzené said he was satisfied with the ordinance, except that he would like to add language that he wants golf cart operators to be allowed to cross Okeechobee Blvd. at designated crossings.
Councilman Ryan Liang also favored the ordinance, noting that the privilege was restricted to golf carts and not dune buggies or ATVs, as had been rumored. "I am pretty happy with this," Liang said.
Councilman Ron Jarriel, however, opposed the ordinance because of the potential danger and expense of putting up signs.
Councilman Jim Rockett added that he thought the ordinance was trying to solve a problem the town does not have.
"Leaving things as is would be my preferred approach," Rockett said. "The ordinance, I think, is more of a nice gesture to a few people in town who would like to use their golf carts on our roads, but have we considered the vast majority of residents who use our roads for their cars, pickups and small trucks, and now have another hazard to contend with?"
Rockett reminded council members that town roads are not required to be up to Florida Department of Transportation standards, which creates a higher safety risk.
"Adding golf carts will not make our roads safer," he said. "It won't slow down traffic, but adding golf carts adds a new risk to driving in Loxahatchee Groves. We are not set up as a senior citizen or golf course development, with golf cart paths set aside for golf carts to travel safely on."
Rockett also questioned the Palm Beach County Sheriff's Office's ability to enforce the rules imposed by the council or state statutes regarding golf cart equipment, including proper brakes and steering. "I don't think we've looked into what this really means in terms of we're creating something that we now have to turn around and enforce," he said, adding that the town has no information that golf carts can be operated safely on town roads.
Goltzené made a motion to approve the ordinance.
"I think the PBSO will be checking to see if drivers do understand what the rules are, like they check to see if they understand the speed limit," Goltzené said.
He added that he would not be attending one of the meetings in November and asked that second reading be done at the council's Dec. 3 meeting.
The motion carried 3-2, with Rockett and Jarriel opposed.