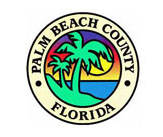 Two more candidates are in, and one previously announced candidate is out, in the ever-shifting race to replace term-limited County Commissioner Jess Santamaria.
Melissa McKinlay, who works in the Palm Beach County Legislative Affairs Department, will run in the Democratic primary, while Andrew Schaller, who ran unsuccessfully for the post in 2010, is running as a Republican.
Meanwhile, former Royal Palm Beach Councilwoman Martha Webster, a Democrat, has withdrawn from the race and thrown her support behind former Wellington Mayor Kathy Foster. Both Foster and Royal Palm Beach Councilman Fred Pinto are also seeking the Democratic nomination.
County Commission District 6, as currently drawn, trends Democratic. Santamaria comfortably won re-election in 2010, despite Republican gains elsewhere.
McKinlay, 42, has worked since 2010 as a legislative delegation aide, providing administrative and legislative support to the director of legislative affairs and the executive director of the Palm Beach County Legislative Delegation on behalf of the Palm Beach County Commission and the county's 13-member state delegation. She has never run for public office before.
McKinlay told the Town-Crier that she has spent her adult life serving the community either in a professional position or as a volunteer with numerous civic organizations.
"I just feel like the time is right to make a future impact on the community," McKinlay said Tuesday. "The way the commission is seated right now, the one thing that is missing is the long perspective. We don't have anyone on the commission who is a mother raising three kids currently in the public schools."
McKinlay, who has governmental experience at the local, state and federal levels, said she has a "big picture" view of government. "Right now I work at the local level, and I have a good working knowledge of how government has to work together, especially with some of the issues we face," she said. "I think that that would be a huge benefit to the county."
She said the county's most pressing issues are to continue growing jobs, especially for the western communities, maintaining a quality infrastructure, and helping the Glades in both those areas.
McKinlay also listed maintaining safe neighborhoods as an important issue, as well as holding all county and municipal officials and employees to a high ethical standard by supporting the Office of the Inspector General.
"I want to have a good reputation for Palm Beach County, and I think that the current commissioner has gone a long way in making sure that that happens," McKinlay said. "I want to continue to move his efforts forward."
She also wants to provide opportunities for youth so they can stay out of trouble, become educated and find work in the community. "I think one of the struggles some families have is to find good community service programs for their kids," McKinlay said.
McKinlay feels that she is more in tune with the people of the western communities than other candidates in the race.
"I'm a single mom," she said. "I've got three kids, two in middle school and one in high school. I'm trying to balance my budget and make sure that they have everything that they need, and make sure that they are safe at home and safe when they are out. I think that will resonate with the voters out there."
McKinlay heads the Junior League of the Palm Beaches' Advocacy Committee and is a member of the Junior Leagues of Florida State Public Affairs Committee. She is a member of the board of directors for the Boys & Girls Club of Boca Raton, and was recently elected to the Palm Beach County Board of Directors for ChildNet. She has served on the board of Voices for Children of Palm Beach County and has served as public affairs chair for the VillageWalk of Wellington Homeowners' Association, multiple school-based charities, and in an appointed position on Wellington's Education Committee.
Schaller became involved in politics through a dispute with the county to get Fargo Avenue, where he owns property, paved. He ran unsuccessfully against Santamaria in 2010. He ran without a party affiliation, taking 6 percent of the vote. Republican John Carroll took 36 percent of the vote, while Santamaria won with 58 percent.
This time, Schaller is running as a Republican.
"I know I can help this county, I know I can represent it well, and I never want anyone in this county to be treated by the county the way that I have been," he said, explaining that although it began with trying to get Fargo Avenue improved, he learned a lot trying to get the issue resolved through many levels of county government.
"Fargo is the subject matter, but from Fargo I've gone through everything from the inspector general, Florida ethics, Palm Beach County ethics, the internal auditor, planning and zoning," he said. "I've been through a lawsuit focused on Fargo that was brought against me that I won three times… It's a journey that has led me through many different facets of not only the county, but all areas of the district."
Schaller, who has long been at odds with Santamaria, said he believes the district has not had proper representation.
"By that, I mean the Glades office has never been maintained on a regular basis," he said. "Michael Jackson did it for three years as a $60,000 part-time employee. Michael decided to run against Jess in 2010. Since then that office has not been maintained. People in the Glades aren't well-represented."
Schaller believes that he will be able to more effectively represent the needs of the western communities.
"We need somebody who is the most effective communicator to be able to not only understand other people's wants, needs and desires to bring to the rest of the county, we also need somebody to communicate your wants needs and desires," he said.
Schaller said he is also concerned about creating jobs and injecting money back into the economy. "I am a businessman," he said, noting that he has owned Palm Beach Financial Exchange for almost 20 years.
The business handles billing for many local businesses, including health clubs, storage services and homeowners' associations.