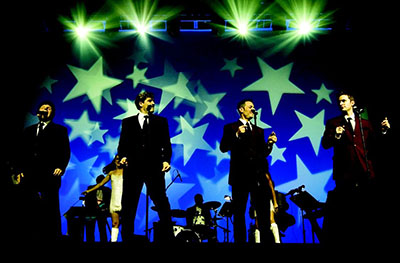 Do you love the music of the Four Seasons, the Beatles, the Beach Boys, the Bee Gees and other '60s groups? Then you'll want to see the Atlantic City Boys when they perform at the Dolly Hand Cultural Arts Center on Tuesday, Nov. 19 at 7:30 p.m.
The Atlantic City Boys are four dynamic lead singers who have wowed audiences at Las Vegas, Walt Disney World and, of course, Atlantic City. Now they lend their world-class vocals to the harmonies of the '60s, singing the hits of the Drifters, the Beach Boys and Frankie Valli and the Four Seasons.
These four very talented, charming and energetic vocalists, backed by an equally accomplished live band, will have you out of your seats, enjoying an exhilarating trip back in time.
For tickets, call the box office at (561) 993-1160 or visit www.dollyhand.org. The Dolly Hand Cultural Arts Center is located on the Palm Beach State College campus in Belle Glade.
ABOVE: The Atlantic City Boys in action.