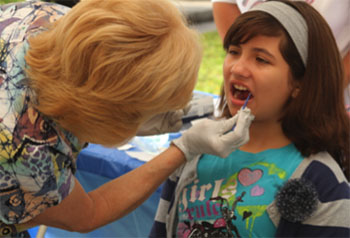 The Caridad Center's ninth annual Family Festival will be held Saturday, Nov. 9, from 9 a.m. to 1 p.m. at the Caridad Center facility at 8645 W. Boynton Beach Blvd.
For the second year, the event will be the Diabetes Week kickoff event for the Palm Beach County Diabetes Coalition. This free, family-focused health event is open to the public. Parking is free on site, and Palm Tran Bus Route 73 stops right in front of the Caridad Center.
Screening tests will be available at no cost, including cholesterol, glucose, blood pressure, urinalysis, BMI, HIV, oral and vision. Those with abnormal results, or found to be "at risk," will be provided with a referral to their primary-care physician. If they do not have insurance, nor a primary care physician, a list of free and low-cost clinics or programs will be made available. Caridad's Prevention, Education & Treatment staff will make follow up telephone calls to ensure that treatment has been accessed.
Health education will be available for oral, vision, breast care, diabetes, chronic diseases, nutrition, physical activity and HIV in order to provide awareness and prevention strategies. Interactive activities will include dancing, fun competitions, tasty cooking demonstrations, face painting for children and a bounce house.
Community resources information will be provided by over 40 organizations, including the Legal Aid Society, which will be available to help participants understand and enroll for health insurance through the Affordable Care Act registration process.
"We have a lot of people in our community who can't afford medical care," Caridad Center Executive Director Laura Kallus said. "This family health event will enable them to get free medical and dental screenings, education to identify risk factors and prevent chronic diseases, health and social community resources, and have fun participating in our interactive activities."
The Caridad Center's health clinic is the largest free healthcare clinic in Florida, serving the uninsured, working poor throughout Palm Beach County. More than 400 volunteers, including doctors, dentists and other medical professionals, donate their time and provide services valued at over $2.3 million a year.
The Caridad Center served 5,577 patients last year at 26,297 visits, bypassing costly emergency room visits, which saves Palm Beach County taxpayers an estimated $4.8 million annually. For more info., visit www.caridad.org.
ABOVE: A patient receives an oral health exam during last year's Caridad Family Festival.