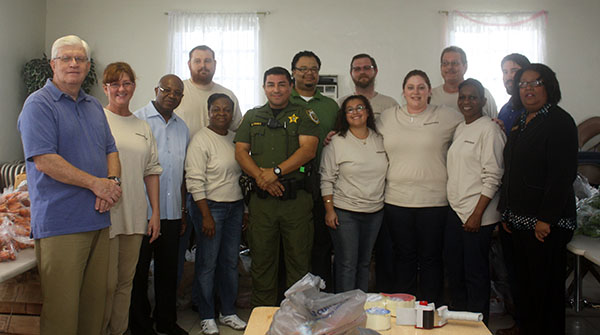 More than 500 families enjoyed a Thanksgiving meal this week thanks to the efforts of the Royal Palm Covenant Church, My Brother's/Sister's Keeper Charitable Trust and the Royal Palm Beach Rotary Club, along with other organizations that donated to the church's food pantry.
"We don't like to see anyone go without," said Pastor Michael Rose, who has helped those in need through the church for more than a decade. "I'm here almost 11 years now, and since I've been here, we've done this food drive every year at Thanksgiving."
Volunteers gathered Tuesday, Nov. 26 at the church to pack boxes of food, including a turkey, and distribute them to members of the community.
"If there is something that people need, something to supplement their finances, this is one of the ways we feel we can help," Rose said. "We try not to turn anyone away who needs help. After all, we call this 'a place of hope.'"
The church partnered this year with My Brother's/Sister's Keeper Charitable Trust, the Royal Palm Beach Rotary Club, the Palm Beach County Sheriff's Office, Palms West Hospital, Home Depot, Grace Fellowship Church, Florida Public Utilities, J&J Produce and other donors to ensure everyone on their list had enough for a Thanksgiving feast.
"They help us to make it happen every year," Rose said. "We're very grateful for all their contributions."
From cornbread to macaroni and cheese, and even fresh produce, the church ensured that needy community members would have enough for the holiday.
Rose noted that he wanted to provide not only substantial meals, but healthy meals, which included fresh produce. Recipients were given everything from cucumbers and green beans to squash and sweet potatoes.
"In trying to help folks with food, we want to make sure people get the best," he said. "Health and wellness is very important to us."
Though the church is especially busy during the holidays, they don't stop giving even when the season is over. Royal Palm Covenant Church offers food from its pantry to the needy in the community every week.
"Our food pantry is open every Thursday from 9 a.m. to noon," Rose said. "We feed more than 100 families who need our help every week."
Though Thanksgiving has passed, Rose noted that the church accepts donations for its food pantry — both food and monetary — all year.
"Anyone who wants to help can donate to us any time throughout the year," he said. "The food pantry operates all year long. We keep this going even after the holidays are over. We don't close our doors; they're always open."
Donors can contribute by visiting www.rpcchurch.com or calling (561) 793-1077.
Rose said any donation can help, but noted that the church can purchase food at a discounted rate, meaning monetary donations can stretch further. "We can do a lot more with money," he said. "But we welcome any donation."
He thanked volunteers and members of the community who helped make the food drive possible.
"I want to wish everyone a happy Thanksgiving," Rose said. "We love our community, and we want to make sure members of this community have everything they need."
ABOVE: John Spillane of the Royal Palm Beach Rotary Club (left), Pastor Mike Rose (third from left), PBSO Deputy Doug Carranza and Rhonda Ferrin-Davis from MBSK (right) with volunteers from Florida Public Utilities.