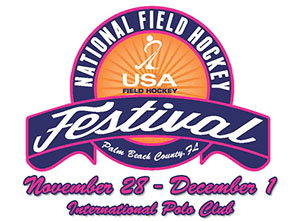 Over Thanksgiving weekend, more than 2,600 amateur field hockey athletes will converge on Wellington for the National Hockey Festival, which will take place on 33 hockey fields laid out on six polo fields at the International Polo Club Palm Beach.
George Linley, executive director of the Palm Beach County Sports Commission, sponsor of the Central Palm Beach County Chamber of Commerce's luncheon Monday at IPC, said the event is a collaboration between the sports commission, IPC and USA Field Hockey, the sport's national governing body.
Linley said the National Hockey Festival is a marquee national sporting event that will bring countywide impact and benefits.
The festival is considered the largest amateur sporting event that takes place annually in the United States. "It's an event that many destinations covet but only a few have the ability to host," Linley said. "Over 4,000 athletes will be playing field hockey right here at this stadium in three weeks, and we are so thrilled to be bringing it to you."
Linley stressed that IPC is a major reason why field hockey has chosen Palm Beach County as its home.
"This was a very competitive bid process, and this is the second consecutive year that the National Hockey Festival will be taking place right here at IPC," Linley said. "There are several other possible destinations. In fact, we were a finalist [with] Palm Springs, Calif., and Phoenix, Ariz., which were previous hosts for this event and have had very robust sport event marketplaces."
However, Palm Beach County's bid with IPC was a very compelling proposal, Linley said. Besides IPC being a world-class venue, the festival requires more than 30 fields.
"It's very difficult to find a venue that can host that many fields in one location, but here at IPC, we were able to take six polo fields and use them to lay out 33 field hockey pitches, and we use two polo fields to park about 1,500 to 2,000 cars," he said. "We were able to do that because you can fit six field hockey pitches on one polo field, and that was a proposal that was very difficult for other destinations to do."
This year, the tournament has added another age group, which will bring the number of participants to more than 260 teams from across the country, Europe, the Caribbean and Canada. An estimated 98 percent of the players will be female.
"There is an open division and an adult division just featuring male competitors," Linley said. "The age groups are 14-and-under, 16-and-under and 19-and-under, primarily high school- and college-age girls, and it does attract a lot of college coaches trying to scout the talent."
In total, more than 4,400 athletes and 8,500 total visitors, including family members, friends and associates, will attend. "There are very few amateur sporting events that have that level of participation," he said.
Last year, the event generated more than 11,500 room nights that touched 48 different hotels from Jupiter to Boca Raton. "There are very few sporting events that have that type of countywide impact," Linley said. "This year, because we have that new age group, this number should be even greater."
Last year's festival generated $8.25 million in direct visitor spending throughout all of Palm Beach County.
"With the addition of the 14-and-under age group, the additional 40 teams, this number will be higher," Linley said. "Last year, more than 4,000 Thanksgiving dinners were served at participating hotels, and we tracked over 4,100 airplane flights that came in at our three South Florida airports, and just under 4,400 car rental days were tracked, so you can see what a sporting event can do for tourism and do for the business community."
Linley encouraged people to come out and see the activity over the Thanksgiving weekend.
"It's more than a field hockey tournament," he said. "We work with IPC to turn this venue into a village within a village. We create an athlete's village that consists of vendors, attractions, interactive games and food courts, so it's good family fun, and field hockey is one of the oldest Olympic sports."
Linley thanked the Village of Wellington, which provides many resources. "Both the council and staff have been great partners allowing this event to happen," he said. "In fact, the councilmen and women came out during the National Hockey Festival last year and celebrated the event and made sure the governing body felt welcome. They also participated in the awards presentation."
The event not only generated a tremendous amount of local publicity, but it actually generated publicity throughout the state, which received national recognition for hosting the festival.
He pointed out that of all the teams that participated, only one was from Florida, meaning all the rest put additional money into the local economy through meals, lodging and travel, and are potential repeat visitors.
"We talk a lot about tourism, because the sports commission is a tourist development agency," Linley said. "But one thing I want to encourage the business community [to do] is to get engaged with the Palm Beach County Sports Commission, to visit our web site [www.palmbeachsports.com], to look at what sporting events are coming to Palm Beach County. When we bring a sporting event to Palm Beach County, it's a business project."
The National Hockey Festival requires a $150,000 budget to produce the event, he said. In addition to facility site fees, there are equipment rentals, audiovisual needs, tables and chairs and tent vendors, hospitality and transportation services, contractual labor, marketing services and insurance needs.
"We really want the business community to take a look at these sporting events and try to get involved," Linley said. "We want to make sure these events are using Palm Beach County companies when they can. One way to do that is to be engaged with our organization and learn about all the great sport activities that are taking place throughout the county."
The sports commission is a private organization that is contracted by Palm Beach County to promote the county as a destination both nationally and internationally. It does that by attracting sporting events that bring in statewide, national and international visitors.
"We host them specifically to generate bed tax revenue for the county and generate economic impact, and this was truly a banner year for us," Linley said. "The 122 sporting events that we supported was a record for our organization. We're very proud of that. The 170,000 room nights is a new benchmark for us, so we're excited about where we are and where we're going."