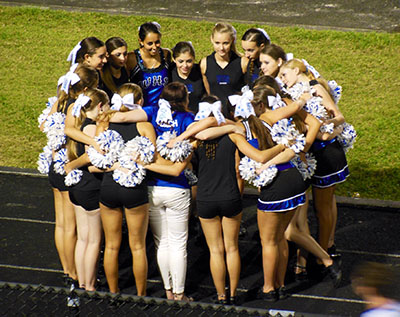 Treat yourself to an evening of fun, pampering and holiday shopping on Friday, Nov. 15 at a Girls Night Out event to benefit the Wellington High School dance team.
The 16 members of the dance team, coached by choreographer Brittany Tobasco, have been selected to perform at the Sugar Bowl in New Orleans on Jan. 2.
The dancers range from freshmen to seniors. The team includes captains Marisa Hoosac and Danielle Thomas, co-captain Sara Dickerman, officers Sam Granaroli and Isabella Bruce, and members Ashleigh Coffman, Carolyn Dipasquale, Tayler Fallen, Morgan Rhodes, Erica Ruston, Emily Sehres, Janae Smith, Allie Terry, Katie Wallace, Tessa Wallis and Maison White.
The cost for each dancer to perform at the Sugar Bowl is approximately $1,000. That's why some of the mothers of the dancers decided to organize a Girls Night Out on Friday, Nov. 15 from 5 to 9 p.m. at the Aero Club Clubhouse (15675 Take Off Place, Wellington). The cost of admission is $5, which includes free food, dancing and a DJ.
It is sure to be an evening of fun, festivities and laughter. Be sure to wear your dancing shoes, because the DJ will play a wide array of music. Food will be donated by Publix.
The evening will be an opportunity to do early holiday shopping and to purchase unique, one-of-a-kind gifts. Treat yourself to a gel manicure, threading and wine; sell extra gold to make big money; and shop a nice selection of designer purses, art, candles, Pampered Chef items, beautiful jewelry, makeup, beach baubles, clothing, organic skincare items and more. Experience a body wrap and get a psychic reading or a chair massage. The evening will also feature a silent auction and raffles.
For more information about the Nov. 15 event, call Sheree Diamond at (561) 236-2441 or Sheri Granaroli at (561) 512-7544.
ABOVE: The Wellington High School dance team in action.