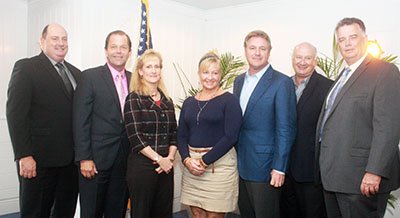 Wellington's upcoming equestrian season is slated to be better than ever, with more horses, riders, competitors and exposure. During the Wellington Chamber of Commerce's luncheon Nov. 13 at the Wanderers Club, equestrian community leaders shared the success of prior seasons, and the scoop for the upcoming season.
John Wash, president of the International Polo Club Palm Beach, said last year's 10th anniversary season was a banner season for the club. "We broke all previous records from the past 10 years," he said. "Our pavilion was sold out for brunch all 16 weeks, and our overall ticket sales increased by about 65 percent."
The sport of polo also benefited from even more exposure, with the U.S. Open Championships aired on NBC Sports.
"I'm happy to say that air time has been secured again," he said. "This year, we will also have the Gold Cup and the C.V. Whitney Cup on television nationwide."
Last season, both Wash himself and the club received several awards, including the President's Award from the Palm Beach County Sports Commission. "It has only been given out four times in the last 30 years," he noted.
Wash thanked the community for the successes IPC has had. "You've embraced us," he said. "We've achieved success, and you were with us every step of the way."
Dressage in Wellington is bigger than ever, said Noreen O'Sullivan, president of the Gold Coast Dressage Association.
"This year, many of our Wellington Classic Dressage shows will join the Global Dressage Festival," she said. "The [GDF] stadium will play host to all our international dressage competitions this year. I'm sure this will make for a very exciting season."
Additionally, they will host the United States Dressage Federation's Regional Championship competition from Oct. 16-19 next year.
Wellington Classic Dressage sees more than 2,600 horse and rider combinations with more than 1,600 rides. "I invite you to join us this season to showcase our wonderful sport," O'Sullivan said.
Marla Connor, general manager of Gulfstream Polo, said her polo club is one of the best-kept secrets in the Wellington area.
The 100-acre facility off Lake Worth Road offers low-goal and medium-goal polo on seven fields.
"We have fun, competitive polo in a very relaxed atmosphere," Connor said. "I encourage you to come out and have a look."
The facility had 22 teams competing last season, and Connor said she expects more this season. "My stabling is already sold out," she said. "That bodes well for all of us."
Connor said her facility is unique because a person can stable their horses, practice and compete all at one facility.
Practice for the season starts in mid-December with tournaments beginning in January.
"We play Friday, Saturday and Sunday all day long," Connor said. "We never charge admission. There are grandstands at every field, but we encourage you to tailgate. That's where all the fun is. It's very casual and relaxed."
She said large groups are welcome and encouraged guests to enjoy an afternoon of tailgating and polo.
"Wellington is such a unique place with so much horse activity," Connor said. "Whether you're new here or whether you've just never been, I encourage you to check out all the venues."
Equestrian Sport Productions CEO Mark Bellissimo said he's expecting a bigger and better season both for show jumping and dressage.
He said his team has made an effort to reach out to the community, and in return the community has embraced them. "We've tried to break up the elite, private club that this place used to be," he said. "It was a private world of independent shows that was less engaged with the community. We've tried to make it something where everyone in the community can feel they're a part of it."
Bellissimo said one of the greatest successes has been the Saturday Night Lights show jumping events at the Palm Beach International Equestrian Center — family-friendly events held each week during the season to introduce the community to the sport with a night of fun, food, rides and show jumping.
Another way his team has embraced the community has been with the Great Charity Challenge, an event that has given away millions of dollars to charities, which are paired with a team of show jumpers to win them money.
"If there's a legacy we hope to leave, it's that," Bellissimo said. "We're very excited and fortunate that word is getting out there."
Bellissimo said what makes Wellington successful is the love of the horse. "The unifying theme in Wellington is really the love of the horse," he said. "Whether that is a carousel ride, a pony ride, a polo match, a jumper competition, a riding lesson or an Olympic competition, this place will continue to be open to all."