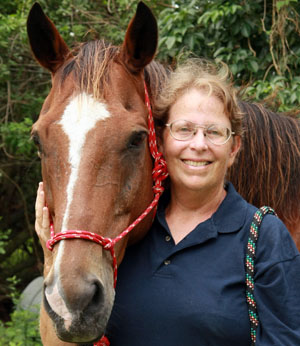 TAILS FROM THE TRAILS
It's one thing to have a nice horse; even better to have it officially recognized.
Maggie Fullington hosted the Oldenburg Horse Breeders' Society inspection at her Marabet Farm in Caloosa on Oct. 24.
"I've been involved with horses for a long time," she said. "I got my first horse when I was 8. I rode a little bit of everything, mostly hunters and jumpers. Now I breed Oldenburgs, Hanoverians and Holsteiners."
Fullington likes the Oldenburg Registry because it represents an especially good group of bloodlines.
"I currently have eight broodmares, four foals born this year, and stand three stallions," Fullington explained. "The horses tend to be well-rounded, good movers and exceptional jumpers. They have good minds, correct conformation and superior athleticism."
Fullington has a good working relationship with the people at the Oldenburg Registry.
"The people who run the registry are a joy to work with, and are a very knowledgeable group of people," Fullington said. "We were very honored to have two of their top members come to the farm to judge the inspection: Holly Simensen, the North American director, and Katrin Burger, the deputy breeding director in Germany."
Simensen has been judging inspections for more than 15 years.
"This registry is special because it follows strict German rules, which produce outstanding horses," she said. "On the whole I've been pleased with the American breeders. I think they're doing a very good job."
The day of the inspection was cool and comfortable, the late October heat wave finally replaced by a much-welcomed cold front. People had brought horses from as close as Jupiter and as far away as the Panhandle. Altogether there were two stallions, five mares and four mares with foals at their sides.
Taylor Roca had brought her mare, Callie, and five-month-old foal, Forrest.
"This is one of the top registries, very well-recognized," Roca said. "I hope to have Callie entered into the breeding books. I think Forrest will grow up to be a jumper. He loves to jump over everything. He's already jumped out of the paddock twice, over a 4-foot fence."
Susanne Benne had brought, D'Amore, a mare owned by Lesley Pollington, for the performance test.
"I'm hoping she'll do well, and so increase her value as a broodmare," Benne said. "I like this registry because it's the closest thing we have here to a German registry, and the judges are very knowledgeable."
Simensen handled the paperwork while Burger looked over the foals, noting their markings on blank horse diagrams, careful to record each star, stripe and sock. Then she microchipped them, first scanning the chip to make sure it would read, quickly inserting it into the muscle in front of and below the left withers, then scanning it once more.
"We also collect samples of mane hair for DNA testing," Burger explained. "We are not allowed to brand them here in the U.S., but we brand them in Germany for sure. Between the microchip and the DNA, we know exactly which horse we have."
Finally, it was time for the inspection to begin.
"We start by looking at the horse's quality of conformation," Burger said. "We study the head, the neck, the saddle position and frame, the front and hind legs. We watch the horse move through all the gaits, preferably under saddle and also free moving, and free jumping. We look for correctness of gaits, impulsion and elasticity, and general impression and development. We want to see rideable horses with good character. After all, we're breeding riding horses."
The stallions went first, one ridden, the next running free and going through the jumping chute of three jumps placed one stride apart. The registry people watched each horse move away and toward them, then go past in each direction.
The mare performance tests were next, followed by the mares with foals at their sides.
Roca was pleased with her results.
"It went good," she said. "Callie made it into the Main Mare Book, and they really liked Forrest. The whole reason we're breeding these horses is to bring a wider recognition of how great these sport horses are — horses bred right here in the U.S. These bloodlines are as good as what you find in Europe. I hope people will see that and support our local breeders. You can get wonderful, athletic horses without all the trouble and expense of organizing a trip to Europe."
Fullington was also pleased with the inspection. One of her mares, L'Attitude MF, won the mare performance test.
"I believe this registry is the best you can find in this country," she said. "It has worldwide recognition, and these judges really know what they're seeing and how to judge. They recognize good horses when they see them."
Next year, Fullington plans to hold another inspection, sometime during late summer or early fall. She welcomes anyone interested in seeing some beautiful horses and learning more about the registry.
For more information, call Fullington at (561) 248-8885, or visit www.marabetfarm.com or www.oldenburghorse.com.