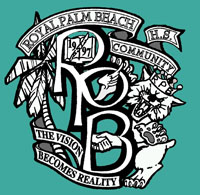 Royal Palm Beach Village Council members last week unanimously agreed to send a letter of support for an International Baccalaureate program that is in the approval process for Royal Palm Beach High School.
At a meeting Thursday, Nov. 7, Royal Palm Beach High School Principal Jesus Armas said support for the IB program began building over the summer when officials at the Palm Beach County School District determined that there was a service gap in the IB program in the western communities.
"When we saw that, it didn't take us long to jump on board, because we'd like to see it at Royal Palm Beach High School," Armas said, explaining that the IB program has a series of four programs beginning in elementary and middle school, and also has a career option, but the best known is the high school diploma program.
"The IB diploma program is very rigorous, college-level, and at the end you take a test, an assessment," he said. "The IB courses are weighted higher, so they're just like Advanced Placement courses, which is good for our students and parents. Ultimately, based on these assessments, students can receive college credit."
Armas said that the nearest IB program to Royal Palm Beach is 13 miles away. There are four IB programs in the district, at William T. Dwyer, Suncoast, Forest Hill and Atlantic high schools, the closest one being Forest Hill.
"The community of Royal Palm Beach sends over 100 students to IB programs," Armas said. "That's over 100 students who travel elsewhere to receive this."
RPBHS has instituted a number of magnet programs in the past several years that appear to be drawing Royal Palm Beach students back to the community, Armas said.
"Student enrollment trends indicate that when we bring the right programs to Royal Palm Beach High School, our parents want their kids to stay in the community," Armas said. "Four years ago, we were losing 788 of our Royal Palm Beach children to other schools. We're down to 563 now, so that's a difference of 225, and we feel that is a result of parents wanting to keep their students here in the community. We feel that bringing in the IB program will help more."
Armas added that an IB program also would draw parents who tend to be involved and engaged. "That traditionally is associated with IB parents and students, and it would benefit the entire student body, not just the IB kids," Armas said. "It would benefit all of our students, thereby benefiting the entire community."
Armas said the institution of the program is well underway, and they are waiting for the school board to decide whether it wants to put an IB program out west. At a school board workshop Nov. 6, Armas noted that Board Member Marcia Andrews was very vocal about wanting an IB program at RPBHS. "It did not come to a vote, but she was very adamant," he said. "She is a real friend of this community and our program."
If the school board decides it wants the IB program at RPBHS, it would then be up to Armas and a committee to make a proposal to district staff and the superintendent in order to get final approval.
"We have a meeting scheduled Nov. 22 with staff, ready to go with our proposal," he said, pointing out that they already have support from Area Superintendent Dr. Ian Saltzman and the School Advisory Council. "Of course, it always helps to have community support, because Royal Palm Beach High School wants to be a beacon for this community, and we want to do what's best for this community."
Assuming RPBHS receives school board and superintendent approval, it would then go through a consideration phase with the IB examiners. "As we move forward, we have created a steering committee of people who are very knowledgeable of IB, and have Royal Palm Beach community ties," Armas said.
The members include Lynn Balch of the Royal Palm Beach Education Advisory Board; Kay Carnes, who was the inaugural principal when Suncoast became a magnet school; Shannon Farrell, IB coordinator at Dwyer and parent of students at H.L. Johnson Elementary School; Vice Mayor Jeff Hmara, liaison to the Royal Palm Beach Education Advisory Board; Ann Killets, associate dean of educational programs at Palm Beach Atlantic University, former chief academic officer for the school district and former principal at H.L. Johnson; Dr. Brenda Magee, founding RPBHS principal and former principal at Crestwood Middle School; Dr. Stephanie Nance, principal of Crestwood Middle School; Dr. Ave Potente, IB program coordinator for the Arthur I. Meyer Jewish Academy and examiner for the IB program; and Carole Shetler, former area superintendent and former principal of Atlantic High School when the IB program was founded there.
"We have put together an impressive group of individuals who have lots of knowledge and credentials with IB, and who have strong ties to this community," Armas said. "We're looking to move forward, and any support we can get from this group and throughout the community we would welcome."
Councilman David Swift said the IB program would encourage students living in the village to attend RPBHS. "I think besides the high school being built and Mr. Armas coming, this is the third most important thing that has happened to the high school," Swift said. "When Mayor [David] Lodwick was here, this program was something he tried for a long time to get for Royal Palm Beach High School."
Swift said RPBHS has had a major turnaround from several years ago, when the school faced many challenges that led high-performing local students to seek other high schools for their education.
"There were a number of years when 900 to 1,000 students who would have gone to Royal Palm Beach High School chose to go somewhere else," Swift said. "It takes those high-performing students and those engaged parents to some other school. This program is trying to capture those students, create programs that will attract them and attract parents who will help with fundraising."
Hmara made a motion for the council to send a letter to the school board in support of the IB program at RPBHS, pointing out that the Royal Palm Beach Education Advisory Board had already drafted a letter of support.
The motion carried 5-0.