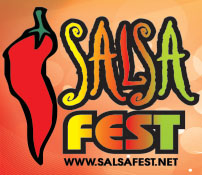 It's time for the seventh annual SalsaFest returning to Greenacres Community Park on Saturday and Sunday, Nov. 23 and 24.
This popular Latin-themed event is brought to you by the Central Palm Beach County Chamber of Commerce and the South Florida Ford Dealers.
Featured acts topping the entertainment lineup for 2013 include Latin Grammy-nominated artists Alexis Y Fido (9 p.m. Saturday), N' Klabe (7:30 p.m. Saturday), Eddie Santiago (6:30 p.m. Saturday) and Tito Puente Jr. (5:30 p.m. Sunday).
"We are very pleased about our return to the City of Greenacres," said Mary Lou Bedford, executive vice president of the Central Palm Beach County Chamber of Commerce. "We have some new and exciting features for this year's event. Honorary Chair Jaene Miranda and committee co-chairs Martha Reyes and Rafael Perez of Havana Restaurant are back again to lend their support to the largest Hispanic festival in Palm Beach County."
With the generous support of SalsaFest's title sponsor, the South Florida Ford Dealers, the main stage entertainment line-up is the best to date.
"It is a great vote of confidence to have our presenting sponsors re-commit, without hesitation, to bringing this annual cultural experience to South Florida," Reyes said. "We had a wonderful showing last year with over 25,000 in attendance. We expect the same, if not better, this year. We thank our presenting media sponsors Mia 92.1 and Telemundo for getting the word out to the community and making this event the success it is."
But the excitement for SalsaFest 2013 does not stop there. Because of a new relationship with Publix Sabor, there will be carnival rides, Chihuahua races, appearances by costume characters, dance and domino competitions, salsa cookoffs, bounce houses, a business expo, arts and crafts and many other activities that will have festival visitors enjoying a great day with family and friends.
Publix Sabor's Sizzling Salsa Cooking tent features La Cocina de Ninos (the Kids' Kitchen), where children 5 to 12 learn how to make their own salsa. Talented student chefs from the Palm Beach County School District will vie for the "Best Student Sizzling Salsa" recipe, and officials from Greenacres, Wellington, Royal Palm Beach, Loxahatchee Groves, Lake Worth and Palm Springs will compete in a fiery "Battle of the Burgs: Sizzling Salsa Showdown."
With more than $100,000 in media support, including significant commitments from Telemundo, Mia 92.1, Comcast, News12CBS and The Palm Beach Post, the two-day festival is expected to bring in record crowds.
"We invite all local area businesses and nonprofit organizations to be a part of the event through sponsorship or by purchasing an exhibitor's booth," said Maritza Rivera, director of special events for the chamber. "SalsaFest will provide your company with an opportunity to increase sales by showcasing your offerings to our local ethnic market, which now represents 30 percent of our population."
Advance tickets to SalsaFest are available for $15 on the official web site, www.salsafest.net. Family four-packs are available for $45. Kids 12 and under are free.
Tickets can also be purchased at TD Bank, Havana Restaurant or Publix Sabor for $13 each — a savings of $2 per ticket.
Sponsors or vendors interested in being part of the event should call Rivera at (561) 790-6200 or e-mail maritza@cpbchamber.com.