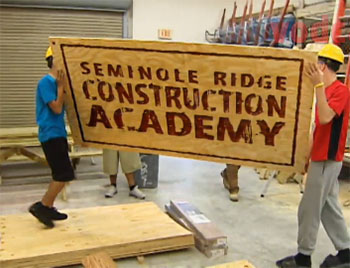 The Seminole Ridge High School Construction Academy has succeeded once again by building their second modular house for Habitat for Humanity of Palm Beach County.
The students finished this house five months sooner than expected. The Academy students did all of the construction work, mentored by their teacher Rick Terkovich, Architect and Project Manager volunteer David Porter, local subcontractors, and the Palm Beach County building inspectors.
Habitat supplied all of the materials, the property, foundation construction, and selected the family to own this house.
This house will roll out of the Academy's shop in the morning of Nov. 12. It will be transported to the site at 130 South E Street in Lake Worth on seven trailers beginning at 6 a.m. on Nov. 13. By sundown, the 1,206-square-foot, three-bedroom, two-bath house will be completely installed onto the property and the roof will be dried in.
Once the house and roof sections have been set in place on the foundation, Habitat will take over completion of the roofing, siding, painting and cabinets. The Royal Palm Beach High School Air Conditioning Academy students led by Patrick Raney will install all of the ductwork and AC equipment.
The Seminole Ridge-Habitat program has now been fine tuned and plans to produce one house per year. For more information, progress photos and to see the house plans, visit www.seminoleridgehabitathouse.com.