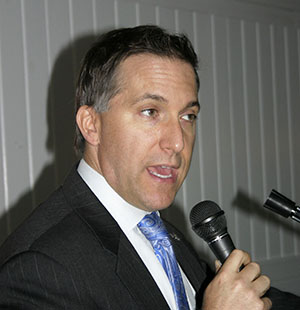 Dave Aronberg, who took over as state attorney for the 15th Judicial Circuit in January, addressed the Wellington Chamber of Commerce on Monday, focusing on the progress his office is making.
Aronberg, a former assistant attorney general, White House fellow and two-term Florida state senator, has built his career on criminal justice and consumer protection issues. Immediately before his election as state attorney, he worked in the Florida attorney general's office as a special prosecutor for prescription drug trafficking.
Aronberg said that since taking office, he has noticed that many people do not understand his role as state attorney.
"People ask, 'What is state attorney?' and I tell them, 'It's the D.A., it's the district attorney. So then the question is, 'Why do you call it state attorney if you're the district attorney?' The answer is we live in Florida, and we have to do everything differently here," he said. "I have no other explanation. Do you watch Law and Order? That's my job, the district attorney."
As the county's top prosecutor, Aronberg said he attempts to be above politics. When it comes to going after pill mills and protecting public safety, partisanship shouldn't matter, he stressed.
"That's why I worked with Pam Bondi, the Republican attorney general," he said. "I loved the job and loved the chance to work with her. I give her a lot of the credit for the fact that Florida, for the first time in decades, has seen a decrease in the number of prescription-drug deaths."
The state attorney's office deals with all crime in Palm Beach County. "The No. 1 question I get asked is, 'Can you help me with a speeding ticket?' I say, 'No, that would be unethical.' Besides, we don't even deal with speeding tickets," he said, explaining that speeding is not a crime, but a traffic infraction.
In a county of 1.3 million people, the office dealt with 126,000 cases last year. Of those, 96,000 were misdemeanors punishable by up to one year in the Palm Beach County Jail, while 22,000 were felonies punishable by more than a year in state prison. An additional 8,000 were juvenile cases.
Of the 96,000 misdemeanors, a full 30 percent were for driving with a suspended license. "A lot of people can't get a license," Aronberg said. "We arrest them, and we see them again and again and again, because they're illegal, they can't get a license because they owe child support or they have fines and they just can't afford it. Eventually we give them jail time, but to them it's worth the risk."
The state attorney operates out of five offices, with the main office in West Palm Beach next to the county courthouse, and satellite offices in Palm Beach Gardens, Delray Beach, Belle Glade and on Gun Club Road in West Palm Beach, where first appearances and arraignments are held.
There are 117 prosecutors, 200 support staff and more than 100 volunteers. With more than 400 people, it operates as the largest law office in Palm Beach County.
"I love the job because unlike the state senate, where you're one member of one of two houses of the legislative branch, which is one of three branches of the government, when you're the state attorney, you're one of one, you're one of 20 in the state, but you're all independent," he said. "The attorney general is not the boss of the state attorneys. She's independent. She is the state's top cop, but we're the top law enforcement officials in our districts."
Aronberg said that his office works closely with the Palm Beach County Sheriff's Office. It takes both agencies to run an effective law enforcement system.
"If the sheriff wants to arrest someone, he can do so, but it's up to us to file the charges," he said. "If we don't file the charges, that person goes free. If we want someone arrested, we file the charges and the sheriff or the police chief has to arrest that person, so in that sense, this is the most powerful position in Palm Beach County."
On the other hand, the PBSO has a far larger budget. "Our budget is $22.5 million a year. The sheriff's budget is half a billion dollars," Aronberg said. "The sheriff gets funded by the county. We get funded by the state. That's one reason why our budget is so limited."
He also pointed out that while the state attorney's office has about 400 employees, the sheriff has thousands. The sheriff also has an armed guard.
"I came here by myself," Aronberg said. "Some state attorneys do get protected. It's after you get threats, and eventually it's part of the job. It's going to happen, but I'm still relatively new to the job. However, the longer you're there, they say in politics friends come and go, but enemies accumulate. You can say the same thing for the state attorney."
Aronberg said that when he took over the job, the office had the lowest conviction rate in Florida for three consecutive years, and one of the highest rates of trying juveniles as adults.
"I wanted to bring back some of the most experienced prosecutors who had left in recent years," he said, including Alan Johnson of Wellington, who had left the office to become executive director of the Palm Beach Commission on Ethics.
Former State Attorney Barry Krischer also came back as a volunteer. He also brought back Brian Fernandez, one of the leading gang prosecutors. "We made gangs a priority in our office," Aronberg said.
He has also increased training. "It used to be that the office was micromanaged from the top down," Aronberg said. "I didn't want to do that. I wanted to let the young prosecutors have the freedom to make their own decisions, settle their own cases if necessary, with a supervisor's oversight, but I wanted them to be empowered. Ultimately, you have to trust the people who work for you. If you don't trust your prosecutors, then they shouldn't be working with you to begin with."
Aronberg also changed the way that charges are filed to a committee system, rather than the federal model established by former State Attorney Michael McAuliffe, where the prosecutor takes a case from start to finish. Aronberg said filing charges is a separate skill from prosecuting.
"We were getting a lot of cases thrown out of court, and we were losing cases, so we had the lowest conviction rate in the state," he said. "I'm pleased to say that when the new conviction rates come out in January, we're going to be toward the state average. I think we've risen from the very bottom to the middle of the pack, which is good, and hopefully we'll keep rising."
ABOVE: State Attorney Dave Aronberg speaks at Monday's luncheon.