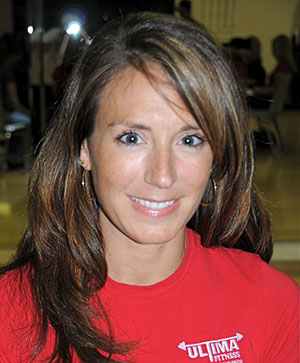 By Lynette Laufenberg
Though most Americans are likely to gain 3 to 7 pounds during the holiday season, anyone trying to eliminate or limit such family traditions as turkey, stuffing, candied sweet potatoes, casserole and pie on Thanksgiving is bound to be banned from the dinner table.
Hence, rather than starting a revolution in the kitchen to save yourself a few extra pounds, why not quietly change things up a bit? Considering that the average traditional Thanksgiving meal packs approximately 3,000 calories, for good health it's well worth introducing new flavors, substituting ingredients and replacing some dishes. You'll keep the family peace and weight scale happy.
The Bird: Slathering a turkey in butter or deep-frying it is like waging war on your heart. That doesn't mean you have to sacrifice gourmet dining to trim hidden fats, cholesterol and calories. To avoid many of those, remove visible fat, skipping the skin and dark part of the meat, and be mindful of portion sizes. One portion should be no bigger than a fist or a deck of cards.
Stuffing: Rather than traditional stuffing made with butter and fatty sausage, try a healthier choice. Use chopped vegetables, sliced apples and broth or lean veal, chicken or turkey sausage. Make wild rice, brown rice, mashed potatoes or whole-wheat bread the main ingredient; no white bread.
Potatoes: Sweet potatoes are naturally creamy, so little fat needs to be added. Use non-fat buttermilk as opposed to butter or cream, which gives it a tangy flavor. Also, use extra sharp cheddar cheese for its big flavor. The key is to use a smaller amount.
Salad: This year, instead of using a mayonnaise-laden Waldorf salad (1/2 cup has about 110 calories) and sugar-loaded cranberry salad (1/2 cup has about 190 calories), prepare a mixed salad with lettuce, tomatoes, sliced onions and carrots with a non-fat or low-fat dressing. You can eat three cups of salad with non-fat dressing for only 100 calories.
Casseroles: Green bean casserole may be a staple on Thanksgiving, but made with fried onions and a high-fat cream soup, this popular dish is loaded with calories and fat. Sautéed green beans seasoned with herbs instead of butter offer a tasty alternative plus all the benefits of a vegetable — vitamins C, K and A, plus fiber—without the fat and calories.
Dessert: Denying the delights of pie would be a sin on Thanksgiving. But some choices are better than others. Pecan pie, which has 480 calories a slice, is one of the least healthful choices you can make. Enjoy pumpkin pie instead. At 180 calories without the crust, it's a truly lean desert!
Here are some other tips for a healthier Thanksgiving dinner.
• Don't skip breakfast and lunch; that guarantees you'll overeat at the Thanksgiving table.
• Remember: Humans can't handle 2,000 to 3,000 calories at once; our bodies store excess calories as fat.
• Eat smaller amounts and drink lots of water throughout the day and really enjoy a healthful dinner.
• Control portion sizes: Draw a 12-inch dinner plate in your mind and divide it into 3-inch-sized circles, with each one representing one food group: proteins, vegetables and starches. The key is to stay within your circle for each food group. If you like turkey and ham, fit a little of both in one circle.
• Bring your own low-calorie dish or veggie tray to family gatherings If you're worried about the food choices.
• Plan a family event that involves physical activity — basketball, football, a long brisk walk outdoors or a family bike ride. Head to Ultima Fitness for an intense hour of "me time" before the big meal and family gathering.
• Be mindful of alcohol intake: Mixed drinks tend to have a high amount of concentrated sugar and quickly add empty calories. One glass of wine may be reasonable, but remember, alcohol contains about 7 calories per gram, which makes it nearly twice as fattening as carbohydrates or protein. It also squashes willpower to eat right.
At Ultima Fitness, we are committed to a fit and healthy lifestyle as well as giving back to the community. This Thanksgiving, we are partnering with Wellington's community program to help others less fortunate by providing them with a healthy Thanksgiving dinner.
During November, we encourage our members and guests to help by donating non-perishable food items. We are looking for healthier versions, such as non-fat or less fat, low sodium, no sugar, whole wheat options or brown rice. All other food items will also be accepted. For more information, contact Judy at (561) 795-2823 or judy@ultimafitness.com.
In addition to the food drive, we will be hosting our annual kick-athon, organized by our Xtreme Tae Kwon Do program. Each year for the past 12 years, Xtreme Tae Kwon Do has hosted this annual charity event, raising thousands of dollars to donate to different causes, such as Hospice of Palm Beach County, the American Cancer Society, Scott's Place and My Brothers'/Sisters' Keeper Charitable Trust. This year, we will be helping to feed families in need in our community.
Xtreme Tae Kwon Do students and parents collect pledges from co-workers, friends and family. Participants bring their pledge form and pledge money to registration on the morning of the event. With every kick they do, they'll be giving people less fortunate hope that a better day is not far away. We strongly believe that this is a great way to show our kids the importance of helping others and to recognize how fortunate they are for all the things they have in life. To learn more about this event, or to make a donation, contact Grandmaster Gustavo Pope at (561) 795-2823 or e-mail TKD@ultimafitness.com.
This Thanksgiving, let's work together to make a difference right here in our own community. Doing good unto others only helps remind us of how fortunate we are, and to feel grateful about our own health, wellness and the food brought to our tables. Happy Thanksgiving!
Lynette Laufenberg, a certified personal trainer, is program/fitness director at Ultima Fitness/Xtreme Tae Kwon Do. Ultima is located at 12799 W. Forest Hill Blvd. in Wellington. For more information, call (561) 795-2823 or visit www.ultimafitness.com.