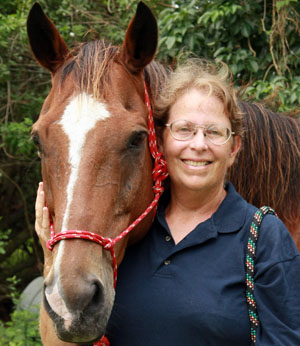 TAILS FROM THE TRAILS
It's almost here. The postcards are in the mail. It's just around the corner.
Next week, after all the turkey and stuffing and cranberries, greeting relatives and watching football games, comes the really important event, the one I look forward to each year: the Tackeria's Thanksgiving sale. Those wonderful postcards, harbinger of the occasion, are winging their way to mailboxes even as you read this.
"We mail out over 5,000 postcards," Store Manager Lou Cuthbertson said. "Most are local, but quite a few go to Fort Meyers, Naples, Miami, Daytona, even out of state."
Indeed, I know from years past that people plan their holiday visits to include this very sale. I've met shoppers from as far away as New York, Massachusetts, Washington and Colorado. Cuthbertson estimates that 200 to 300 people visit the store each day during the sale. That's enough to make it interesting without feeling too crowded.
So, what will be on sale?
"We haven't decided that yet," Cuthbertson said. "Each year, the Wednesday before Thanksgiving, after the store closes, [owner] Tony [Coppola] and I walk around and look things over, deciding what the specials will be. There are over 80,000 different items. Of course there'll be discounts on all sorts of things, up to 70 percent off storewide, but the specials, those we never know in advance. We like to mix things up each year and keep it fresh."
The store is chock-full of all sorts of finds: saddles, saddle pads, girths, bridles, halters, lead ropes, bits, buckets, brushes, medicines and supplements, boots, breeches, show shirts, jackets, socks, helmets, gloves, crops and saddle racks. But there's also the fun stuff: purses, Breyer models, T-shirts, Christmas ornaments, picture frames, glassware, note pads, bookends, water bottles, license plates, lamps, knickknacks and jewelry.
"We are going to have some very good sidewalk sales on breeches and saddle pads," Cuthbertson said. "And we have a really nice redesigned boot area, much roomier than what we used to have. It's much more convenient for trying on boots and half-chaps. We're also offering free gifts with the purchase of Ariat footwear and clothing: a free duffle bag with any Ariat footwear, and a gift card with Ariat clothing in varying amounts. The more you spend, the bigger the gift card."
The store also has great prices on saddles.
"We match prices people can find online. We've got a good selection at the lowest price," Cuthbertson said. "And, of course, there'll be in-store discounts on all sorts of items, and free giveaways throughout the sale. We'll be giving away a free IRH helmet each day, and we have the raffle prize of a free M. Toulouse saddle. This year we're also raffling off a K Rider earpad and K Trainer headset trainer/rider communication system. You don't have to be present to win the big prizes."
One new item I'll be considering is something called Equi Cool Down, which helps horses cool down quickly. There's a body wrap, a neck wrap and leg wraps. There's no refrigeration needed, you just wet it down with regular water (even the water doesn't have to be cold), shake it out and put it on the horse. It's washable and reusable. One of my horses is a non-sweater, and I'm thinking he might really appreciate that body wrap come July and August.
There'll also be a demonstration and information about Equi-Tape, an elastic kinesiology therapeutic tape designed specifically for horses.
"It helps horses train harder and recover quicker while supporting tendons, ligaments and joints," product creator and founder Dr. Beverly Gordon explained. "Equi-Tape is also therapeutic in aiding tight muscles. It can aid in rehabilitating equine injuries, helping horses become sounder sooner."
Gordon will be applying Equi-Tape early Friday morning to Smokey, the life-sized horse statue right in front of the store. He'll remain taped throughout the sale. Stacey Small, company president, will be available during the sale to explain the product and answer questions. To see what it's all about, visit www.equi-tape.com.
Additionally, the Tackeria has generously offered a table to the Wildlife Recovery Center, a small local charity with which I'm affiliated. The Wildlife Center will be selling cute necklaces and wind chimes, along with a new product called Boot Buddies. These comfortable pads go over your socks and prevent your boots from chafing your Achilles tendons. All proceeds benefit the Wildlife Recovery Center, which cares for wild birds and animals, along with a few horses, and is financed solely through donations and fundraisers such as this.
The Tackeria is located at 13501 South Shore Blvd. in Wellington. The Thanksgiving Sale runs Friday, Nov. 29 from 9 a.m. to 7 p.m.; Saturday, Nov. 30 from 9 a.m. to 6 p.m.; and Sunday, Dec. 1 from 10 a.m. to 5 p.m. For more information, call the Tackeria at (561) 793-2012 or visit www.tackeria.com.