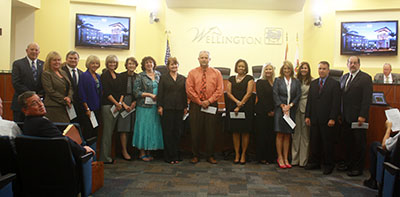 Nearly $275,000 was awarded last week to 11 Wellington public schools as part of the Keely Spinelli Grant Program. The money will be used to help students struggling in reading and math get additional help to catch up.
Members of the Wellington Village Council approved the grant last month, and principals from the 11 schools were on hand Tuesday, Nov. 12 to receive the checks.
"This is the least we can do," Mayor Bob Margolis said. "You've thanked us, but really we should be thanking you for all that you do for our children."
Each school was able to request up to $25,000 to benefit its lowest-performing students in reading and math.
The grant was named in memory of longtime local educator Keely Spinelli, who touched the lives of children throughout the western communities.
Spinelli, who died in 2008 after a long battle with cancer, taught in Royal Palm Beach and Loxahatchee Groves before becoming principal at Binks Forest Elementary School in Wellington. She dedicated her life to helping students who struggled to perform in school.
"There is nothing I have taken greater satisfaction in than supporting this initiative," Vice Mayor Howard Coates said. "It's not just a support for the children of Wellington, but also for the hard work and dedication of our teachers and principals. Thank you for your efforts. I know the money we have provided will be well spent on our kids."
Wellington financed similar programs years ago, but a down economy and a bare-bones budget meant the funding had to be halted for several years.
Councilwoman Anne Gerwig called the grant an investment.
"It's an investment in our community," she said. "I think I can say this is one of the things everyone up here feels good about. I'm excited to see how the results come back and what methods were the most beneficial."
Gerwig said she would also like to take a look at the requirements of the grant to allow schools to purchase items such as workbooks, which were considered "consumables" and not funded. "I'd like to see if that was what we intended when we made the rules," she said.
Councilman Matt Willhite said he thought the grant would help cover a basic need in the community — to make sure every child is well-educated.
"This will fund our future generations and help you educate them the best way you can," Willhite said. "I appreciate all your hard work. We drop our kids off to you every day and expect that they'll be safe… and hopefully get a good education in the meantime. This is just a small thing we can do to help you."
Councilman John Greene said it is programs like these that make Wellington the family-oriented community it is.
"I think it's one of the best investments we can make in this community, to invest in our schools, our children, their education and show the people who are considering where they want to raise their kids what this community is about," he said. "It's one of our most valuable assets, and it's important we recognize that."
He also thanked the Wellington Education Advisory Board, which brought the issue to the council.
"I want to thank everyone who was a part of this," Greene said. "They [the Education Advisory Board] have done an outstanding job in presenting this council with an opportunity to do something great for our community."
Margolis agreed. "'No' was not an option for them," he said. "We have a great group on the board, and they are truly your advocates and your front line for what you need from this village."
The grants awarded to each school are as follows:
Binks Forest Elementary School received $25,000, with $14,750 for reading and $10,250 for math. Elbridge Gale Elementary School also received $25,000, $10,000 for reading and $15,000 for math. Meanwhile, Equestrian Trails Elementary School requested and received $24,922, with all of it going to reading. New Horizons Elementary School was given $24,978, with $17,870 for reading and $7,108 for math. Panther Run Elementary School requested $24,999 for reading, and Wellington Elementary School also requested $24,999, with the bulk of it ($24,340) for reading and $659 for math.
Emerald Cove Middle School asked for $24,997, with all of it going to math. Polo Park Middle School requested $24,897, with $16,849 for reading and $8,048 for math. Wellington Landings Middle received $24,986, with $15,486 for reading and $9,500 for math.
Palm Beach Central High School requested $25,000 — $12,490 for reading and $12,510 for math. Wellington High School received $25,000, which will all be spent on reading programs.
ABOVE: Wellington Village Council members with principals from Wellington's public schools.