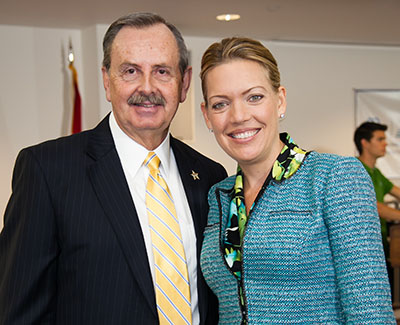 Hanley Center and the Palm Beach County Sheriff's Office joined forces to present the inaugural Palm Beach County Drug Abuse Summit on Tuesday, Dec. 3.
Presented as a free community service and open to the public, the event attracted an audience of nearly 150 people to the Hanley Resource Center auditorium. Covering a wide range of topics, the summit was broken down into four separate panel discussions, each exploring the drug pandemic from a different perspective.
"The Palm Beach County Drug Abuse Summit's mission is to effectively restrict the impact of the prescription and synthetic drug pandemic and its far-reaching effects through common awareness, communication and networking within our communities locally, regionally and nationally," said Dr. Rachel Docekal, CEO of Hanley Center Foundation and vice president of external relations for Caron Treatment Centers. "We are grateful to the esteemed leaders who participated in this important event."
The summit's criminal justice/law and order panel featured: Capt. Eric Coleman, Narcotics Division, Palm Beach County Sheriff's Office; Chief Deputy Mike Gauger, Palm Beach County Sheriff's Office; Norman Hemming, special counsel, U.S. Attorney's Office; and John J. McKenna, assistant special agent in charge with the Drug Enforcement Administration's Fort Lauderdale district Office.
A panel of legislative representatives and elected officials included: State Rep. Lori Berman (D-District 90); Todd Bonlarron, director of legislative affairs for Palm Beach County; State Rep. Dave Kerner (D-District 87); West Palm Beach Mayor Jeri Muoio; and Curt Siegmeister, regional representative for Gov. Rick Scott.
A medical and pharmaceuticals expert panel included: Dr. Antonella Carlozzi, pharmacist; Dr. Barbara Krantz, medical director of the Hanley Center; Dr. Karen Flannery of Good Samaritan Medical Center; Dr. Jessica Prince of the Palm Beach Children's Hospital and St. Mary's Medical Center; and Dr. Mark Rubenstein, former president of the Palm Beach County Medical Society.
Finally, the day concluded with a public health/community outreach panel featuring: Diane Huff, director of operations for 211 Helpline; Jeff Kadel, executive director of the Palm Beach County Substance Abuse Coalition; Michelle Maloney, executive director of treatment services for the Hanley Center; Gary Martin, a detective with the Palm Beach County Sheriff's Office and dean of students at Lynn University; and Karen Perry, executive director of the NOPE Task Force.
The Hanley Center is a nonprofit residential substance abuse treatment center established by the Hanley family as a community resource nearly 30 years ago. It has led the treatment industry as a pioneer with older adult and baby boomer programs, setting a hallmark for effective treatment with those populations.
In South Florida, Caron and Hanley Treatment Centers operate lifesaving addiction treatment centers at the Hanley Center, Caron Ocean Drive and Caron Renaissance in Palm Beach County, and Gate Lodge in Vero Beach. For more info., call (561) 841-1048 or visit www.hanleycenter.org.
ABOVE: Sheriff Ric Bradshaw and Dr. Rachel Docekal. PHOTOGRAPHY BY LILA PHOTO