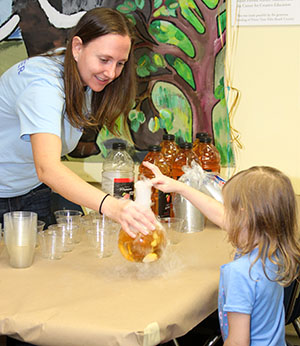 Although Frosty the Snowman can't find a home outside in South Florida, that doesn't mean there isn't snow to be found. The South Florida Science Center & Aquarium recently announced a holiday activities lineup that is sure to have elves of all ages kicking up their heels.
Beginning on Saturday, Dec. 21 and continuing for three full weekends, the South Florida Science Center will offer plenty of winter wonders. "We are continually striving to be a busy hub of informal science education opportunities," CEO Lew Crampton said. "Aside from bringing in blockbuster traveling exhibits, such as our current exhibit Titanic: The Artifact Exhibition, we are constantly wrapping education lessons into themed weekend events. The holidays offer an excellent opportunity to engage young minds about relevant topics, such as how snow is created."
Beginning Saturday, Dec. 21, snow will be in the forecast as the science center will offer guests an opportunity to create their own snow starting at 1:30 p.m. Immediately following the snow demonstration, visitors can watch a liquid nitrogen show at 2:30 p.m., followed by a winter gumdrops craft at 3:30 p.m.
Similar activities, including grow your own crystals, paper snowflake crafts and marshmallow necklaces, will rotate for a complete winter wonders experience for the next three weekends.
If parents need a break from family time to catch up on holiday shopping, the science center will be offering Winter Wonders Workshop mini-camp sessions for children ages 4 to 12. The mini-camp sessions, each having a different theme, are two days per session from 9 a.m. to 4 p.m. daily, and extended hours of exploration are available from 7:30 a.m. to 5:30 p.m. The cost is $90 per mini-camp for nonmembers and $80 per mini-camp for members.
Mini-camp sessions begin Dec. 23-24 with Winter Science Treats, offering children an opportunity to make-and-take holiday sweet treats such as coconut cake-pop snowballs and liquid nitrogen mint ice cream. Mini-camp will resume the following week, on Dec. 30 -31 with Frigid Space, a session designed to explore the depths of space by creating dry ice smoking comets and their own constellation viewer. The last session, Ice and Crystals, a "cool" exploration into ice and crystals, will be Jan. 2-3. To register for a mini-camp session, e-mail programs@sfsciencecenter.org or call (561) 832-2026.
Additionally, the science center will be hosting "Noon Year's Eve" on Tuesday, Dec. 31. "Noon Year's Eve" is a special opportunity for young Einsteins to partake in the festive celebration of New Year's, without straining to keep their eyes open hours past their bedtimes. Special activities begin at 11 a.m. and include an aluminum foil boat competition, Titanic sand art, dry ice apple cider, a liquid nitrogen show and a grow-your-own-crystals lab.
Nights at the Museum, an always popular monthly event, will also feature a winter wonders theme. Taking place Friday, Dec. 27, from 6 to 9 p.m., the evening will offer plenty of chilly crafts, including polar bear paws and penguin feet lab, make-and-take snow and a snowflake craft.
The South Florida Science Center & Aquarium, formerly known as the South Florida Science Museum, recently completed a $5 million expansion and renovation. The facility features more than 50 hands-on educational exhibits, an 8,000-gallon fresh and salt water aquarium featuring both local and exotic marine life, a digital planetarium, a conservation research station, a Florida exhibit hall and an interactive Everglades exhibit. All permanent exhibits will be open during the Titanic's special showing.
During Titanic: The Artifact Exhibition, admission to the science center is $15 for adults, $11.50 for children ages 3 to 12 and $13.50 for seniors over the age of 62. Members can enjoy the exhibit for free. Admission includes Titanic: The Artifact Exhibition as well as general admission to the rest of the science center and the on-going holiday activities. Nights at the Museum is a special event, and admission for members is $6.50 for adults and free for children. Nonmember admission is $13.50 for adults, $12 for seniors over the age of 62 and $10 for children.
The South Florida Science Center & Aquarium is located at 4801 Dreher Trail North in West Palm Beach and is open Monday through Friday from 9 a.m. to 5 p.m., and on Saturday and Sunday from 10 a.m. to 6 p.m. For more information, call (561) 832-1988 or visit www.sfsciencecenter.org.
ABOVE: A South Florida Science Center visitor takes part in the dry ice apple cider experiment.