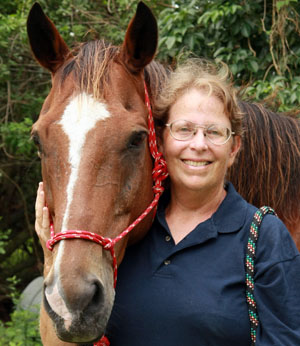 TAILS FROM THE TRAILS
I suppose you could say it was inevitable that Lauren Briggs would make horses her life's work. She grew up riding and showing in Massachusetts, and her father, Ray Briggs, was a blacksmith who tended horses for Olympic riders, among others.
"I worked my way up," Briggs said. "I never had a fancy, fully trained horse handed to me. I bought all my horses green and made them myself. It's a great way to really learn about horses."
Briggs has been living in the Wellington area for the past seven years. She's an "R" rated judge, which means she's qualified to judge A-rated shows.
"I've judged local hunter and jumper classes, including classes at [the Winter Equestrian Festival]. I also did the Interscholastic Equestrian Association Regional Finals in Massachusetts last year, and will do them for both Massachusetts and South Florida this year in March," she said.
The Interscholastic Equestrian Association allows middle and high school students to ride and show, even if they don't own their own horses. "It's a fine way for youngsters to get introduced to the sport," she said.
Briggs started judging when she was 18. She knows firsthand how cutthroat the world of horse shows can be.
"Well, there's always politics involved in showing," she said. "But when I judge, I don't care who their trainer is. I never want to go there. I like being fair and giving everyone a chance. Sometimes a horse will make a mistake in an earlier class, and a judge will remember and take that into consideration the next time she sees him in a later class. I judge each horse and rider only on what they do in each class."
There's nothing as rewarding as seeing a horse go around and do a good job, Briggs said.
"One of my favorite things is speaking with the riders afterward, answering their questions and giving them pointers so they can better themselves," she said. "One of my pet peeves is unsportsmanlike conduct; someone not being kind to other riders or her horse. That's very important to me, in both the rider and parents. I think the more fair everyone is — judge, rider, owner, trainer, parent — the better."
Briggs believes that some judges are more partial to a particular look or breed of horse.
"I think Thoroughbreds sometimes get a bad rap in hunter/jumper classes," she said. "People think they're more difficult to ride or harder to handle. Everyone wants a Warmblood. I'd like to see more people riding Thoroughbreds, who can be amazing in a lot of different classes. Thoroughbred rescue groups are doing a great job educating people about how versatile these horses can be."
About four months ago, Briggs became the manager and head instructor at Snaffle Bit Farm, located on D Road in Loxahatchee Groves. A friend of hers had been teaching there and had to leave, but recommended her for the job. She met owner Sharon Andersen, and a deal was struck.
"I'm very excited to get a whole new program going," Briggs said. "It's a wonderful facility. We have 10 acres, 43 stalls, eight school horses in all sizes, abilities and temperaments, and we offer a wide range of programs."
The farm caters to children of all ages and sizes, as well as adults.
"We do trail rides and other fun activities. We go to the local shows, everything from Posse to WEF," Briggs said. "We have a fun, relaxed atmosphere, family-friendly, lots of moms and daughters riding together. We welcome riders of all levels and abilities, from rank beginners to serious competitors, and have both group and individual lessons."
Snaffle Bit Farm is also starting a Pony Club group in January, affiliated with United States Pony Clubs.
"There's no official minimum age for members, and they can stay with the group until they're 25," Briggs said. "You don't have to own a horse or even know how to ride. It's a great way for kids to meet other horse-crazy kids and learn about horses and the sport. We will be going to local shows and the South Florida Fair. We'll meet twice a month, one informational and one riding. It'll be a lot of fun."
Melissa Mazer of Wellington has known Briggs since they showed ponies together back in Massachusetts.
"She has an amazing knack for helping riders and bringing them along," Mazer said. "The fact that she's also a judge lets her see her riders through a more professional view. She focuses on equitation and proper form, and she's always insistent on doing what's best for the horse. I've seen her work with riders of all ages, from very young children through older adults. She is very kind and always has the best interest of the horse and rider as her goal. She's a true horsewoman."
Mazer's daughter, Zoe, who's just turned 6, will start riding at Snaffle Bit Farm this year.
"Zoe's looking forward to it," Mazer said. "She's done lead line, and now she's excited about moving up. She wants to ride like me. I feel absolutely 100 percent safe having Lauren teach her. I've recommended her to a lot of other parents. It's a fantastic, amazing experience."
Briggs will also be offering a Christmas Break Horse Camp next weekend with three fun-filled days of horsemanship and riding. It'll run Friday, Dec. 27 through Sunday, Dec. 29, from 9 a.m. to 2 p.m. The cost is $50 per day.
"Children are welcome to bring snacks or their lunch," Briggs said. "We'll have lots of fun. There'll be a pizza party on Sunday. We'll be doing pony painting, games on the ponies, a lesson each day and a bunch of activities all centered on horsemanship. It will be a nice break for the parents, and a great deal of fun for the children."
For more information, visit www.snafflebitfarm.com, or call owner Sharon Andersen at (352) 227-0922 or Briggs at (508) 509-7265.