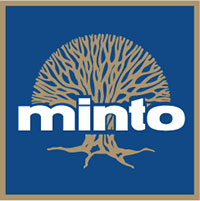 The Indian Trail Improvement District Board of Supervisors has called a special meeting for Monday, Dec. 30 at 5 p.m. to discuss Minto West, the development proposed for the 3,900-acre former Callery-Judge Grove property.
Representatives of Minto Communities Florida are scheduled to make a 30-minute presentation, with no input from the public, according to ITID attorney Mary Viator.
At the supervisors' meeting Dec. 18, ITID President Carol Jacobs wanted residents to be aware that they would not be allowed to speak at the presentation. "Around holiday time, they might not want to come all the way down here knowing that they are not going to be able to ask questions," Jacobs said.
ITID Manager Jim Shallman said the board would not be making a decision or taking an official position on the Minto project at the Dec. 30 meeting.
Minto recently purchased the Callery-Judge Grove property for $51 million. The land, located off Seminole Pratt Whitney Road, has a future land-use approval for up to 2,996 homes and up to 235,000 square feet of non-residential uses.
Minto is requesting necessary land-use changes for up to 6,500 homes and about 1.4 million square feet of workplace and community-serving commercial uses.
In October, the Palm Beach County Commission approved a special transmittal process for Minto West — a decision that county planners said would actually allow more time for the review process.
Minto conducted a workshop Dec. 9 with residents at the Seminole Improvement District office. Members of the media were not invited, and some residents said they were not invited to or informed of the meeting.
At the Dec. 18 meeting, Supervisor Gary Dunkley requested that ITID legal staff submit their relations, if any, with Minto, Loxahatchee Groves, the Ibis Golf & Country Club, GL Homes and/or Palm Beach Gardens. "I would like that in writing within 30 days," Dunkley said.
Supervisor Jennifer Hager said she would like an unbiased, informational report on all planned development in the area.
"I can't tell you how many people I've spoken to who don't know about all this," Hager said, explaining that she wanted the information to be posted on the district's web site. "I want it 100 percent neutral, who it is, what they would like to do. I think people need to know what's coming out here. It's unavoidable, but they should be aware of what's coming. I think many residents are unaware of what's going on."
Hager made a motion, seconded by Supervisor Michelle Damone, to post the information as soon as possible, which carried unanimously.
Jacobs said that Minto had not yet made a presentation to the board about its plans. "There will be more time to have them back and have public comment, but this is just for us," Jacobs said. "You are welcome to attend, but there will be no public comment."
Damone pointed out that there will be an opportunity for public comment at the board's meeting in January.
Resident Alan Ballweg said he thought every opportunity should be permitted for public comment. "There's no reason to keep the public quiet on something so important, and I think that out of respect for the First Amendment and out of respect for the expression of transparency, the board should reconsider that position and open it up to comments," he said.
Ballweg also pointed out that Minto has proposed to help ITID with drainage. "There are several reasons why it would be difficult for them to do so," he said. "They are going to be turning pervious land into impervious land. They're going to be covering it with roads, structures and commercial buildings and parking areas, so it will be harder for water to soak into the ground, which means they are going to need their drainage more than ever."
He pointed out that the current Federal Emergency Management Agency maps put 90 percent of the Minto property in a flood zone. "The only way they're going to give us any drainage would be to make their flooding problem even worse than it already is," Ballweg said.
Jacobs suggested that after the board hears the Minto presentation, it invite the builder's representatives to come back, possibly in January, to answer questions or respond to comments from residents.
"To be fair, I would like to hear what the presentation is, and then have another date in January where they come back, and we can ask questions and the residents can ask questions," Jacobs said.
ITID has no actual power to control the Minto development; that authority rests with Palm Beach County. Minto is scheduled for hearings with county agencies in March and April, but specific dates have not been set.
Minto representatives have submitted a request to the county for an additional comprehensive plan amendment round to revise the agricultural enclave language in the plan and revise the Future Land Use Atlas to reflect the Minto West proposal. After that, Minto will also need Unified Land Development Code text changes and a rezoning.
Minto has set up a web site for information about Minto West. It can be found at www.mintoinfo.com.