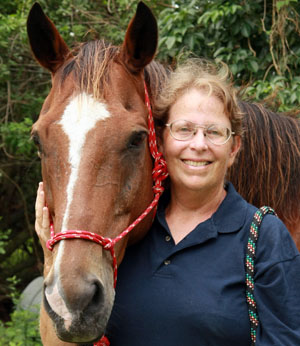 TAILS FROM THE TRAILS
The weather was overcast, yet the atmosphere at Karen's Equine Intervention was upbeat and sunny, smiles all around as volunteers rushed to finish up last-minute touches — horses brushed, platters of cookies out on the table, the sign and balloons tied to the street sign out on Seminole Pratt Whitney Road. They were preparing for the open house on the Saturday of Veterans Day weekend in November.
Located on East Calder Drive in Royal Ascot Estates, Karen's Equine Intervention is a therapeutic riding and educational center, and also offers a Horses for Heroes program to assist members of the military and their families. Indeed, this open house was geared especially toward members of the military, their families, as well as first responders, both active and retired.
"We held it this weekend in honor of Veterans Day," explained owner and founder Nora Janssen. "Today's open house, as well as our Horses for Heroes program, are designed to help people deal with stress, to give them an outlet where they can get away from problems. Being around horses is therapeutic. Our programs help people find alternate ways of dealing with the pressures of everyday life. Today's get-together should be a relaxing and fun day for these wonderful men and women and their families, a chance for them to connect and kick back."
Unfortunately, the main group of military personnel who'd been coming out to ride at Karen's had gotten deployed just before the weekend. They were off for a year of service, the first three months at Fort Hood, the next nine in Afghanistan. But 30 to 40 people did show up.
There was a special musical dressage freestyle presentation put on by Olympian rider Bent Jensen, as well as other equestrian exhibits and a view of how the Palm Beach County Sheriff's Department canines perform.
The first 25 families who arrived received Secretariat movie posters. Since Thoroughbred rescue is a secondary goal of the organization, visiting children got the chance to ride a former race winner or another pony. A treasure hunt and other surprises delighted the kids. Snacks and refreshments were provided. Many local businesses donated wonderful raffle items with proceeds benefiting the horses.
Karen's Equine Intervention is a relatively small group. They currently have six horses and ponies and 15 volunteers. They serve 20 clients, ages 12 to 60, who typically visit the facility up to three times weekly.
"We help people deal with a whole host of problems," Janssen explained, "long-term problems related to chronic illnesses as well as transient, temporary ones like grief caused by the loss of a loved one. We also offer a nurse advocacy program to help people understand treatment options. We design individualized programs for each of our clients, tailored to their specific needs."
The group's goal is to utilize horses in an individualized approach to therapeutically assist persons suffering from depression, anxiety, post-traumatic stress disorder, grief or any similar condition. It's affiliated with Horses 4 Heroes, a national nonprofit organization dedicated to empowering people by enriching their lives through recreational, instructional and morale-boosting health and wellness programs that emphasize fun and safe activities with horses.
The facility's volunteers were excited about the open house.
Barbara Manchester and her 11-year-old daughter, Kaylee, were on hand to help out.
"We've only been coming for two weeks, every Saturday," Barbara said. "We help out with the horses, and eventually we hope to help with the clients. This is an awesome facility. Everyone's very friendly and welcoming."
"I don't get to ride yet, but I will soon," Kaylee added. "I'm pretty excited about that. Coming here's really fun. I love horses and enjoy learning about how to care for them and groom them and everything. And they have other animals too, like chickens, goats, the pig and a turkey. Being here gets your mind off other things. It makes you smile."
Marley Cannon, 12, was another volunteer on hand.
"I've been coming out since June," she said. "I had zero horse experience. I've learned a lot, both caring for horses and riding. I'm learning how to post now. I love being around animals, especially horses. When I grow up, I want to do something with animals."
And so, despite the weather and the just-deployed troops, the open house was a success. The rain mostly held off, and all the guests and volunteers had a good time.
"We met some new people, possible volunteers and prospective clients," Janssen said. "Everyone enjoyed the day. We plan to hold more open houses in the future so people can come out to visit and see what we're all about."
For more information, call Karen's Equine Intervention at (561) 318-8043.