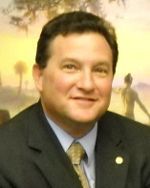 State Rep. Mark Pafford (D-District 86) visited the Palm Beach County Commission on Tuesday to discuss the upcoming legislative session, which convenes March 4.
Pafford told commissioners that he'll try to get some of the projected additional state revenue for projects the county is working on. These projects include the berm separating the J.W. Corbett Wildlife Management Area from The Acreage, for which he will seek an additional $4 million.
Pafford thanked the commission for its plans to come to Tallahassee during Palm Beach County Day in March. "I think that's very helpful," he said. "You have the benefit of having people in front of you during each meeting, and I wish we had more of that in Tallahassee."
Pafford said there will be at least $1 billion more available in next year's state budget. "I wanted to make you aware of that," Pafford said, indicating that he intended to continue to stand behind programs such as the Corbett berm and the Sadowski Trust Fund, which has provided affordable housing and jobs to people in the county and statewide.
"This county actually does a great job compared to other places in the state," Pafford said. "I would like to be able to help in that regard in terms of water projects, like the Lake Worth Lagoon. Last year, I think we had over 300 water projects throughout the state. We had committees where we heard each water project, and only a handful really were approved by the state. There is a tremendous need throughout the state, and a limited amount of dollars."
As former chairman of the county's delegation, he said he learned that there is a time and place for partisan politics. "I think all of you do a good job limiting that type of nonsense," Pafford said. "You are able to talk about issues without blending too much of the rhetoric that, unfortunately, we are all used to. If there is a mentor-type body the legislature should take a look at, it's local government. It is a pleasure to be able to represent you in Tallahassee."
Commissioner Paulette Burdick said the Sadowski Trust Fund is very important to the county. "Whatever we can do to help in that effort, just let us know," she said.
Commissioner Mary Lou Berger said she plans to be back in Tallahassee in March for Palm Beach County Day. "It's a lot of walking, but it's a pleasure to come up there and see everybody and chat about the priorities that are important to us," Berger said.
Commissioner Shelley Vana, a former state representative, said she was happy that Pafford had been named as the chamber's next minority leader. "We're very happy that we have you here, and I hope that we can get some good stuff for Palm Beach County," Vana said.
Commissioner Jess Santamaria told Pafford, "Keep on doing what you're doing. I would say you are one of my good examples of what a public servant should be."
Mayor Priscilla Taylor said it was a pleasure working with Pafford, from back when she was a state representative up until now. "You were easy to work with and committed," Taylor said. "Just be mindful of what's going on here in Palm Beach County so that when we do call, you can represent us."
Other county goals outlined recently by Governmental Affairs Coordinator Todd Bonlarron include economic development, particularly in the Glades, which include water treatment system infrastructure upgrades, transportation projects and workforce needs.
The Lake Worth Lagoon initiative was recently included, at the county's request, in a state proposal dealing with Lake Okeechobee and discharges of polluted water. Protecting the Lake Worth Lagoon includes the reconfiguration of the S-155 control structure, which controls stormwater flow into the Lake Worth Lagoon.
Guns as they relate to mental health and domestic violence are also a key county issue. The mental health community has launched a pilot program in the county to serve some of those with both substance abuse and mental health problems. County staff has also been working to provide additional assistance to victims, particularly those who want to get out of leases in order to move to other places.
To address homelessness, the county will work on Taylor's initiative to develop a dedicated funding source from the state for local homelessness projects. The county will also be supporting local cultural organizations, including the South Florida Science Museum, in their requests for expansion money.
ABOVE: State Rep. Mark Pafford (D-District 86)