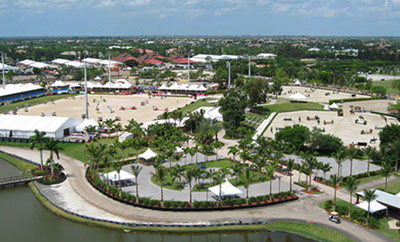 Equestrian Sport Productions and Rolex SA have signed a 10-year sponsorship agreement to make Rolex the "Official Timepiece" of the Palm Beach International Equestrian Center and of the world-renowned FTI Consulting Winter Equestrian Festival.
The festival serves almost 6,000 horses and 2,000 riders from all 50 states and over 30 countries.
The long-term partnership will facilitate a record $1.63 million increase in prize money, bringing the grand total to over $8 million at the Winter Equestrian Festival, making it one of the richest circuits in the world.
Three new FEI-rated CSI 5* events will be added to the schedule, which will make five of the 12 weeks during the circuit at the highest level in show jumping. There will also be a new $1 million Palm Beach Challenge presented by Rolex bonus opportunity.
Another highlight of the association is that two of the CSI 5* Grand Prix events will be televised, and many others will be distributed by Rolex through their media partnerships in Asia, Europe and the Americas.
"We are honored to be partnered with one of the most respected brands in the world," said Mark Bellissimo, CEO of Equestrian Sport Productions. "Through this partnership, we will provide the resources to elevate the level of show jumping for the Americas and expose the Palm Beach International Equestrian Center to a broader international audience."
Rolex representatives are also excited about the sponsorship.
"We are very pleased to extend and expand the scope of our long-lasting and successful partnership with this prestigious venue and the world-class, world-renowned events it hosts," said Arnaud Boetsch, director of communications for Rolex. "Rolex and the Palm Beach International Equestrian Center certainly share a common passion for excellence and perfection."
The dates of the 2014 CSI 5* shows are: FTI WEF 3 Jan. 22-26, FTI WEF 5 Feb. 5-9, FTI WEF 7 Feb. 19-23, FTI WEF 10 March 12-16 and FTI WEF 12 March 26-30.
In addition to the five CSI 5* shows, there are three CSI 4* events, a CSI 3* and two CSI 2* shows during the circuit.
Weeks 3, 5, 7 and 10 will feature a $300,000 Saturday night Grand Prix, while FTI WEF 12 will feature the $500,000 FTI Consulting Finale Grand Prix.
The "Palm Beach Challenge presented by Rolex" applies to four of the five CSI 5* events and awards a $1 million bonus to any horse and rider combination that wins the four consecutive CSI 5* Grand Prix events at FTI WEF 3, 5, 10 and 12. The winner of two consecutive Grand Prix events will receive $50,000, and the winner of three of four will receive a $100,000 bonus.
Finally, Rolex offered a substantial contribution to the FTI Consulting Great Charity Challenge, presented by Fidelity Investments, an equestrian show jumping competition founded by Bellissimo and his daughter Paige. The event, set for Feb. 1, is a competition where the world's top riders team up with equestrian sport's most prominent families in a unique competition that awards a sliding scale of prize money to 34 Palm Beach County charities.
ABOVE: The Palm Beach International Equestrian Center.