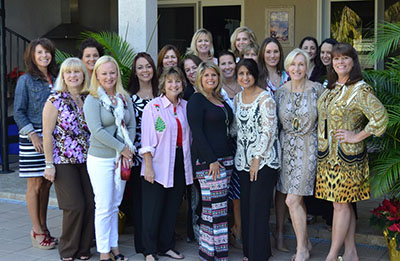 On Monday, Dec. 9, the King's Academy Auction Committee held its annual Christmas party at the beautiful home of TKA parents Ed and Susanne Legere in Lake Worth.
Guests were treated to a wonderful luncheon, and the highlight of the afternoon was the traditional white elephant gift exchange. Guests gathered to support the auction by bringing themed gift baskets that will be featured in the silent auction at TKA's 13th annual Mane Event auction set for March 1 at the National Croquet Center.
This year's Mane Event theme is "A Star-Studded Premiere" and promises to be an exciting night of glitz and glamour. Proceeds benefit TKA's Annual Fund Campaign, which plays a vital part in the success of carrying out the school's mission of "graduating Christian leaders who seek to impact their world for the King of kings through academic excellence and spiritual vitality."
To date, more than $55,000 has been committed in sponsorships. Presenting Sponsors include Regal Paint Centers, Revan Racing and the Maguire Family. Platinum Sponsors include Wells Fargo, Braman Honda and Insurance Express.com, the Graceffo family. Dr. Jorge Acevedo of the Center for Bone & Joint Surgery is a Gold Sponsor.
The King's Academy is a nationally recognized private Christian school serving approximately 1,200 students from preschool through 12th grade. More information is available at www.tka.net.
ABOVE: TKA Auction Committee members at the Dec. 9 party.